source: www.youthwork-practice.com | 2000 Games, Devotions, Themes, Ideas and more for Youth Work
only for private using
Summing
Material:
Small wooden clothespins, if you don't have them, use small plastic clothespins, 3-4 cm
Cork, sliced, about 0.50 cm wide
Balloon cut-offs, the part where you blow in, strips 0.30cm wide
Greaseproof paper for the wings
String or stranded cotton, for hanging or throwing, approximately 50 cm long
Scissors
Glue or PVA glue
Pins for painting
That's how it's done
Remove the metal parts from the clothespins, then glue them together back to back. Cut the cork disks in half, so that you get 2 semicircles, glue them to the pins and let it all dry.
Now put the rubber around your creation. This requires some skills because the rubber is not supposed to cross over and needs to be flat. Now tie a string around the neck and attach two beautiful painted wings.
To make it buzz, let the end of the string quickly circle out of your wrist. It is possible that it won't work the first time, but as soon as you get the know-how, it will.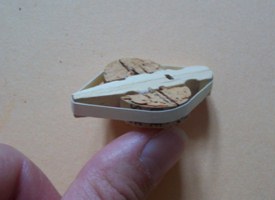 Send in from Sandra Stöhr
[ © www.youthwork-practice.com | 2000 Games and Ideas for Youth Work ]