source: www.youthwork-practice.com | 2000 Games, Devotions, Themes, Ideas and more for Youth Work
only for private using
Building a Wheel of Fortune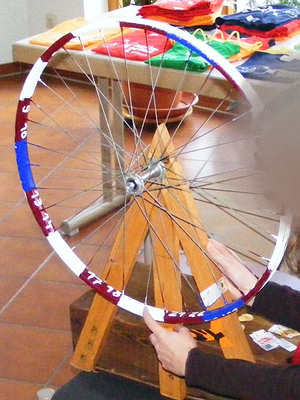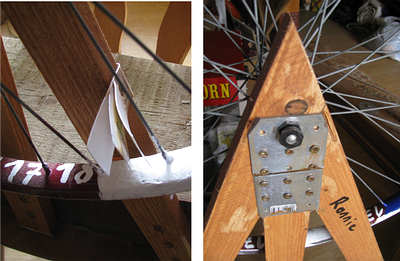 Tools:
Saw
Screwdriver
Key Ring
Drill
Material:
Stand 500x200x200mm
Battens: 3x approx. 600mm
Bicycle rim
Chevron
Perforated sheet
Margarine tin
Description:
On camps and youth nights, this wheel is always a top seller. You do not need to buy an expensive wheel; you can easily build one yourself. You turn the wheel, which will make a loud noise and at some time the wheel will stop. Then you count the numbers, marked on the wheel.
Construction:
Use a thick piece of wood, for example, an oak beam as a stand. With three battens build a triangle. That is the stand for the wheel which you screw with Spax screws to the stand. Now screw the rim with the axle to the triangle.
From the margarine box cut off plastic strips (100x20mm), put three layers on top of each other and attach them to the triangle with Spax.
Now paint the wheel with different colours, don't forget to paint numbers or symbols on it as well. You are ready to go now!
Send in from Ronnie Berzins
[ © www.youthwork-practice.com | 2000 Games and Ideas for Youth Work ]