source: www.youthwork-practice.com | 2000 Games, Devotions, Themes, Ideas and more for Youth Work
only for private using
Creating an angel out of a clay pot
Material:
Small clay pot with a hole
Two small wooden balls for hands, each with a hole
Two medium-sized wooden beads, each with a hole
A large wooden ball
Any string or wool
Thin transparent nylon thread for hanging
Hot glue gun
Waterproof paint for painting
Golden Paper
Black felt-tip pen
Newspaper to protect your working area
Preparation:
First you need to draw and cut out the template for the wings on cardboard. The children then can paint the wings themselves.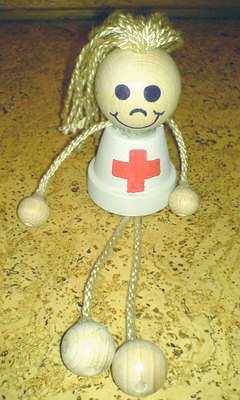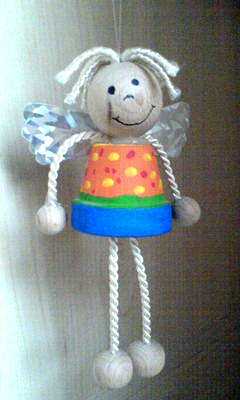 Instructions
Firstly, cover your work area with the newspaper. Then the kids are to paint the clay pot beautifully. While this is drying, the hot glue guns are preheated. While using the hot glue guns children always have to be supervised, the danger to get burned is too high. Now, two long pieces of wool are threaded through the hole in the clay pot and fastened to the clay pot and on the other side to the 4 wooden balls. The small wooden balls are used as the hands and the large wooden balls as feet.
Next, glue the hair to the hole for the head and stick it to the clay pot. If the angel is to be suspended, stick a transparent thread with the hair to the head. Finally, the wings are cut out and glued to the pot.
If you wish, this angel could be a guardian angel with a beautiful writing on it.
If you want to create a "doctor angel", proceed as above, only paint the pot white and at the end paint a red cross on the front. The angel looks even better if you stick a disposable syringe to its hand.
Send in from Romina Kamrad
[ © www.youthwork-practice.com | 2000 Games and Ideas for Youth Work ]