source: www.youthwork-practice.com | 2000 Games, Devotions, Themes, Ideas and more for Youth Work
only for private using
A ball mad from a balloon
Material:
Per ball you will need 2 balloons
Rice for the filling (for cooking or rice pudding)
Scissors
And possibly a funnel or a sheet folded to funnel to fill the rice in
That's how it's done
Each balloon neck is cut off. However, before you do that, inflate the balloon once so it is easier to fill. Using the funnel or the sheet, fill the balloon, using about 100g rice. This works best when you work in a team.
One holds the ball the other one fills in the rice. Now you need the other balloon and put it over the first balloon in a way so that the second ball's opening is on the opposite of the first balls opening.
Tip:
These balls are suitable for throwing, for balancing, for acts on the foot. You also can juggle three or more pieces.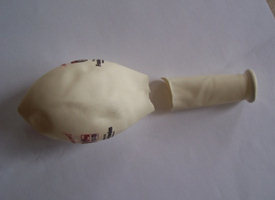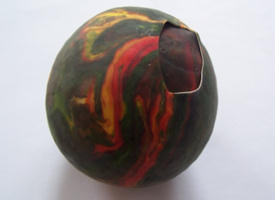 Send in from Sandra Stöhr
[ © www.youthwork-practice.com | 2000 Games and Ideas for Youth Work ]