source: www.youthwork-practice.com | 2000 Games, Devotions, Themes, Ideas and more for Youth Work
only for private using
Making a boat from a milk carton
Material:
2 milk cartoons
2 rolls of toilet paper
1 wooden skewer
1 toothpick
Wool
Some coloured construction paper
Dry sand
Watercolours
Brush
Scissors
Hot glue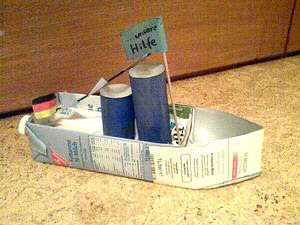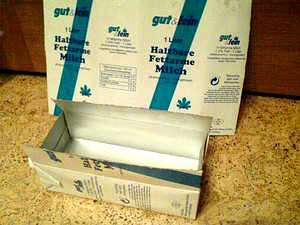 Preparation:
You will need two milk cartons per child. They need to be well-washed and cut like shown on the picture below. Particularly if you want to do the crafting with several children, you are well advised to start collecting milk cartons early. You also will need empty toilette rolls. Thinking ahead, you also should dry the sand and print out the templates. Stick the template to cardboard and reproduce as many as you need.
Instructions:
Cut the milk carton open; after cutting off a large area draw the template with the tip to the front. Then cut a little further, so that you can fold the top and stick it together with hot glue. Now put some sand in the bottom of your boat so that it does not tip over as easily. The flaps, which are pointing upward, fold in half and bend downwards. Into the large cutoff, area cut two holes each in the back and front. Then push those inwards and glue them together.
After the tip of the boat is stuck together, it can be painted with watercolours. To the same with the chimneys (make sure the one in the rear is slightly smaller). Put a wooden stick through the front hole and a toothpick in the back. Between the both put a string and tense it nicely. From the construction paper cut out some flags and stick them to the string.
Send in from Romina Kamrad
[ © www.youthwork-practice.com | 2000 Games and Ideas for Youth Work ]