source: www.youthwork-practice.com | 2000 Games, Devotions, Themes, Ideas and more for Youth Work
only for private using
Deco ideas for the mother's day table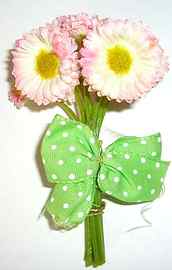 Prettily decorated plates.
Material list:
A stalk with petals and leaves
Pink and light blue satin ribbon
Instructions
Cut the stalks to a length of approx. 8 cm and tie them with pink and light blue satin ribbon together. You can simply leave the ends of the ribbon hanging. Place the completed petal deco on the plates. This is how to achieve a prettily decorated plate which matches the table decoration.
[ © www.youthwork-practice.com | 2000 Games and Ideas for Youth Work ]