source: www.youthwork-practice.com | 2000 Games, Devotions, Themes, Ideas and more for Youth Work
only for private using
Decorative cushions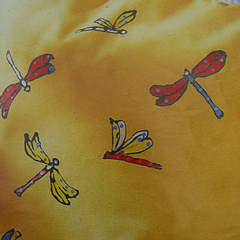 Material:
You will need the following craft materials:
A ready-made cotton pillow case 40 x 40 (this is available in all textile stores or furniture stores)
A textile pen and different textile paints (from hobby stores or craft stores)
Ironing or baking paper
Clear plastic (from stationery and office stores)
Paper, pencil and an iron
These are the instructions for a cushion with dragonflies. You can of course use any motive you like; butterflies, hearts or flowers. That is your own choice.
Craft instructions:
First of all you draw differnt dragonflies onto paper. Place the clear plastic sheets on the paper and you can follow the outlines with a textile pen. This should be left to dry for approx. 1-2 hours. The dragonflies can then be painted in different colours.

Important: paint directly from bottle and paint the edges first and then the colours!

Apply the paint thickly right up to the edge of the contours. Let each colour dry well before applying the next.

Once you are finished you let the dragonflies dry once again. After 24 hours you can carefully remove the dried motives from the plastic and place them on the desire positions on your pillow case.

Cover everything over with ironing paper or baking paper. Set the iron to "cotton" and place the hot iron on the motives. After two minutes move the iron around a little and remove it. Let the fabric cool off. This is how easy it is to iron the motives onto the cloth.
[ © www.youthwork-practice.com | 2000 Games and Ideas for Youth Work ]