source: www.youthwork-practice.com | 2000 Games, Devotions, Themes, Ideas and more for Youth Work
only for private using
Individual diary with pressed flowers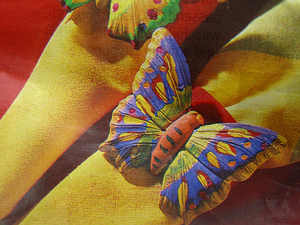 Material:
You will need the following material:
A book or note pad
A sheet of corrugated cardboard (A 3)
A sheet of laid paper (A 5)
approx. 30 cm coloured cord
approx. 1 m velvet
2 dried flowers such as pansies
A ruler
Scissors
Pencil
Book paste, paper glue
The diary can keep your personal memories, dreams, secret wishes and big secrets in a very discrete and decorative manner. Beautifully smartened up and individually designed, the homemade diary offers the perfect way to keep a record for yourself of the unforgettable experiences in life, deep feelings and special encounters.
Here are few little tips before you start:
Make all of the exact markings on the left side of the paper and the back of the book. Attach 4 craft strings which are 15cm long to the front and back of the sleeve. These will be used to tie the diary closed with a ribbon. The two slits on the back of the sleeve are to be folded inwards. The binder should now be stuck to the block of pages; pay attention to the markings."
Mark out the folds with the back of a knife. Fold inwards and stick them down.
Craft instructions:
To begin, the book is placed on the corrugated cardboard half open and draw around the shape of the back of the book.

The other side is then flipped open and the other side of the book is drawn around. Mark which one is the back.

Cut vertically into the card at the width of the book back and angle off the four book corners.

Cut 1cm into the book edges at the sides from the front and back. You can now pull the strings through and stick them down.

An oval is drawn on the front and is cut out. The paper is laid from the left and is stuck against the cover.

On the right, you can now decorate the edge of the oval with cord and stick the petals down.
The diary is already finished. You secrets are sure to be kept well in it.
Another extra tip for a special photo album:
A photo album with a portrait photo on the front is unmistakable. You can decorate the album with a few pretty feathers and make the edges nicer by stick down some string. The spine of the book can become a work of art by sticking down some twigs in criss-crosses.
[ © www.youthwork-practice.com | 2000 Games and Ideas for Youth Work ]