source: www.youthwork-practice.com | 2000 Games, Devotions, Themes, Ideas and more for Youth Work
only for private using
Funny door sign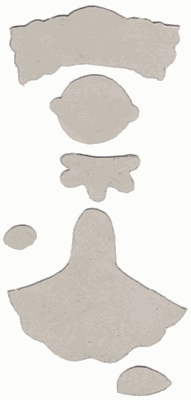 This is a nice crafty idea for children aged 7-12. This is idea is only suitable for girls. The craft takes between half and hour and an hour. It is good fun if each sign looks different from the others at the end of the craft session.
Material:
Coloured paper
Scissors and paste
Fibre pens
Card
Sticky strips
Templates:
Please be aware that the hands and feet need to be drawn out twice.
Preparations:
The templates must be drawn onto card as stencils and cut out. A template must be made for the first initial of each child's name.
Process:
First the templates must be drawn onto the coloured paper using a stencil and cut out. Everyone can design the girl's dress to their own taste with coloured pens. Then everything is stuck together:
The letter on the dress

The collar on the dress

The hair on the head
The threads are then cut into pieces and are stuck with sticky tape to the dress from behind as arms, legs and neck. The feet, hands and head are also fixed to the ends of the threads with sticky tape. Help the kids with this so that the parts do not fall off straight away.
The final stage is drawn on a face and hair.
Tip:
Obviously it is also possible to create the figure without using a letter. This saves a lot of effort and still looks nice.
Have fun!!!
[ © www.youthwork-practice.com | 2000 Games and Ideas for Youth Work ]