source: www.youthwork-practice.com | 2000 Games, Devotions, Themes, Ideas and more for Youth Work
only for private using
Flowers made from Felt
Flowers made from felt are an ideal gift idea or a great room decoration for flower lovers.
What you will need: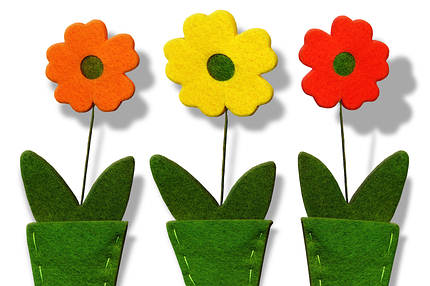 Flowers made from Felt
©: Butch - Fotolia
Felt in various colours (e.g. brown, green, red and yellow)
A pen
A metal rod
A pair of scissors, glue, a needle and thread
Instructions
Fist, begin by drawing your flowers, pots, leaves and petals on your felt and then cut them out.
Next, shape your felt pieces into flowers and sew or glue them together. To attach the metal rod, which forms the stem of your flower it can be mounted on the back of the pot and the flower using a little strip.
[ © www.youthwork-practice.com | 2000 Games and Ideas for Youth Work ]