source: www.youthwork-practice.com | 2000 Games, Devotions, Themes, Ideas and more for Youth Work
only for private using
Flower wreath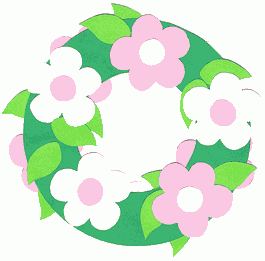 This is a nice window picture which is a good idea for a gift. It looks complicated but is actually very easy to make. It is suitable for children of primary school age. The craft session will take between half an hour and an hour.
Material:
Coloured paper
Scissors and paste
Card for the stencils
Templates: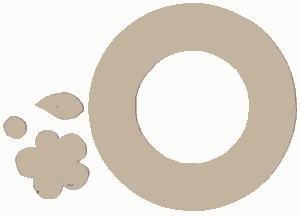 Preparations:
First of all the stencils must be made from card. Because there are only a few parts which are needed quite a few times it makes sense to make more stencils of the flowers, the dots and the leaves. Sort the paper into order so that there is no mix up later.
Process:
With the help of the stencils draw the flowers ten times, the dots ten times and the leaves sixteen to twenty times onto coloured paper and cut them all out.

Stick the leaves, then the flowers and then the dots onto the wreath from one side and then from the other side. Make sure that it looks nice on both sides.

Then place a heavy book on top so that everything holds together well.
Tip:
It is not important for the flowers and leaves to be stuck down directly on top of each other. If they are stuck down at different levels a more realistic result is achieved and the whole thing looks even more complicated.
Here is another example of how this might look. The colours can be varied to suit your own taste.
[ © www.youthwork-practice.com | 2000 Games and Ideas for Youth Work ]