source: www.youthwork-practice.com | 2000 Games, Devotions, Themes, Ideas and more for Youth Work
only for private using
Flowery bookmark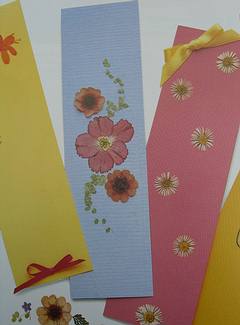 Collecting flowers and leaves and pressing them is lots of fun; you will notice this when enjoying a nice autumn walk. You can also make original gifts with them such as this bookmark for example which can make by following these instructions. Always use freshly picked brightly coloured flowers and look for flowers which are naturally flatter. This makes them easier to press.
Material:
You will need the following materials:
Blotting paper
A heavy book
Flowers and leaves
A pair of tweezers
Coloured photo card
Self-adhesive clear foil
Ruler and tape
Multi-use glue
A pair of scissors
Craft instructions:
Place a sheet of blotting paper in a large heavy book which is used as a surface for small leaves and colourful flowers.

You then place a second piece of blotting paper over the flowers and leaves. Now carefully close the book and place it in a safe place. You can place another book on top to make it heavier. You will now have to be patient and wait…

A few weeks later you can remove the flowers and leaves from the book with a pair of tweezers. Cut long strips of card and place the flowers on them. Only glue the flowers down once you are happy with the arrangement.

In order to protect the flowers and leaves you can place self-adhesive foil over the bookmarks. Any bubbles or creases which might occur can be smoothed out with a ruler. Cut off any overhanging edges with scissors and stick on a little bow.
[ © www.youthwork-practice.com | 2000 Games and Ideas for Youth Work ]