source: www.youthwork-practice.com | 2000 Games, Devotions, Themes, Ideas and more for Youth Work
only for private using
"Flowerpot-Front garden-Replacement Gnome" or the "Flowerpot Scout"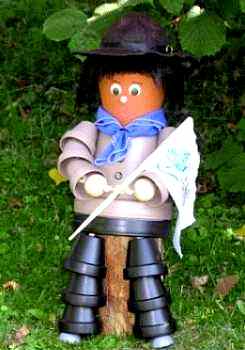 This flower pot figure is suitable for your front garden and makes a difference to the normal garden gnomes which are available. They are also a nice gift idea or a craft tip for one or two group sessions.
You will need: Flower pots in varying sizes (1 larger flower pot for the body, 6 little ones for the arms, 6 little ones for the feet and a middle sized one for the head), different coloured paints and 2 wooden balls for the hands. You will also need 2 wooden feet, craft string for tying the pots and wooden balls together, fake hair, 2 wobbly eyes, a wooden ball for the nose, material for a neckerchief, buttons for the outfit (clothing), some felt and a narrow leather band for the hat. In order for your "flowerpot-front garden-replacement gnome" to really come into it's own, place it on a tree stump.
[ © www.youthwork-practice.com | 2000 Games and Ideas for Youth Work ]