source: www.youthwork-practice.com | 2000 Games, Devotions, Themes, Ideas and more for Youth Work
only for private using
Hairy eggheads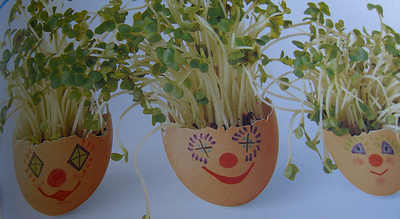 Here is an original ideas for all of those whoe like to grow cress. You only need a few egg shell halves from eggs which have been used for cooking or baking. The egg shells turn into funny hairy eggheads. The cress can be mixed with a cut up hard boiled egg and you have tasty bread spread for your lunchtime sandwiches or evening meal.
Material:
You will need the following materials:
A few clean egg shells
Cress seeds
Cotton wool
Felt pens
An egg box
Craft instructions:
Wash out the egg shells well and let them dry. Draw funny faces onto the dried egg shells with felt tip pens.

You then moisten the cotton wool and place it carefully onto the shell.

Sprinkle some cress seeds onto the cotton wool.

The egg shell halves are then placed in the egg box and when all of the egg shells are finished, you can place them on a sunny window sill. The cotton wool must be regularly moistened so that it does not dry out. After a few days the seeds will start to shoot and the hair will start to grow. You can then harvest the cress!
[ © www.youthwork-practice.com | 2000 Games and Ideas for Youth Work ]