source: www.youthwork-practice.com | 2000 Games, Devotions, Themes, Ideas and more for Youth Work
only for private using
Kite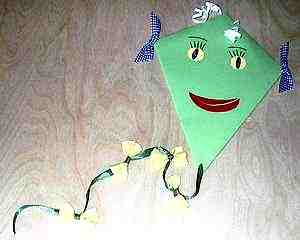 Material:
Photo card, ribbon, paper (possibly transparent paper), cord (thin ribbon), gift ribbon and scissors
Craft instructions:
First a diamond shape is drawn on photo card at the size desired and is cut out. Two bows are tied from ribbon and are glued to the left and right points of the kite. In the bottom point, a hole is punched through and a piece of very thin ribbon or cord is pulled through and is tied. Little squares are now cut from coloured paper or transparent paper.
These are them curled together at the central points and are attached to the ribbon at short intervals (approx. 2-3 cm) as bows. Two circles are drawn on coloured paper with a compass for the eyes. A pupil is drawn in the middle of each eye with a black pen. The two eyes are then stuck onto the kite and eyelashes and eyebrows are drawn on with black felt-tip pens. The mouth is made from red coloured paper which is cut out and stuck to the kite. The last part is to stick some gift ribbon on the top part of the kite as hair. Instead of gift ribbon, you can also attach a third bow. This kite is particularly good as autumn decoration.
[ © www.youthwork-practice.com | 2000 Games and Ideas for Youth Work ]