source: www.youthwork-practice.com | 2000 Games, Devotions, Themes, Ideas and more for Youth Work
only for private using
A wax cloth lunchbox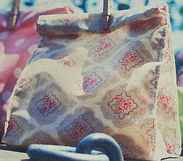 This picnic bag not only looks great, it is also easy to make and a great, practical alternative to the standard paper bag.
Material list:
For the lunchbox you will need:
A metre of a colourful wax sheet: 20 x 30 cm each for the front and back, 30 x 6 cm for each of the sides and 20 x 6 cm for the bottom. (The best way is to ask mum or granny if they have an old wax table cloth which they can spare. Then you save the costs of a new one.)
A staple gun and a peg
Scissors, ruler and pencil
Instructions
Cut the wax sheet according to the given measurements. Then staple the two side pieces (30 x 6 cm) to the front and reverse sides (20 x 30 cm). You should make sure that the edges are perfectly aligned and that the staples are placed 0,5cm from the edge. The bottom (20 x 6 cm) is then stapled on. Fill the bag, fold it over from top to bottom and close it with a peg. This lunchbox is ideal for trips and picnics especially in the springtime. It is also suitable for use as a school lunchbox.
[ © www.youthwork-practice.com | 2000 Games and Ideas for Youth Work ]