source: www.youthwork-practice.com | 2000 Games, Devotions, Themes, Ideas and more for Youth Work
only for private using
A patterned flower pot covered with paper mache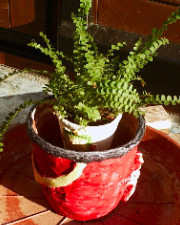 Material:
A flower pot which is aprox. 26cm high and with a inner diameter of 26cm
A plastic flower pot with a diameter of 30 cm
3 packs of paper machee
Deco paint (water based gloss paint): the base colour turquoise is mixed with light blue and light green, azure blue, ultramarine blue, green and cinnamon. Orange, yellow, white and black.
Different flat paintbrushes: round brush no. 1
Cutter for the contours
General:
As described on the packet, the paper machee is mixed with water and kneaded. The mass can be used straight away but it becomes suppler if it left over night in an air-tight container. Moisten the hands, knead a lump of paper mache, press it down and form it into the basic shape.
Cover the flower pot with the mass bit by bit smoothing out the whole surface and the cross over points with moist fingers. When modelling the plastic strip of the flower pot moisten the first layer of paper mache with a paintbrush. Carefully smooth out the crossover points and keep moistening. This allows the mass to be applied to dried paper mache.
For modelling:
Mark off a ring approx 3cm from the upper edge of the flower pot. Above the wavy edge, draw on 6 equal sized arches approx 2cm high. Use a cutter to cut off the edge of the pot along the waves. Cover the pot with paper machee. You might want to change the basic form by applying more of the mass. Shape a 5cm high paper mache edge at the top of the inside of the pot
Plastic strips:
Flatten the mass to a thickness of approx 5 mm and use a knife to cut 1.5cm wide strips. Flatten the edges with moist fingers. Place the strips on the edge of the pot along the arch and slant both sides leading towards the bottom of the pot. Finish off one side with a modelled star. Apply strips to the rest of the edge of the pot. Then apply another wavy strip at a distance of approx 6cm - slightly set away from the top edge.
Painting:
Cover the pot with a base coat of thinned white paint. Draw a zigzag line between the two plastic edge strips. Paint flowers on the bordered area. Apply the paints following the illustration or to your own taste. Turquoise can be mixed with light blue and light green 3: 1. Paint the coloured surfaces first. Paint the plastic strips with any pattern you like – triangles, zigzags, dots or stripes – in colourful colours. Paint around the heart twice with two different colours. Paint black lines around the stripes, flowers and the heart.
[ © www.youthwork-practice.com | 2000 Games and Ideas for Youth Work ]