source: www.youthwork-practice.com | 2000 Games, Devotions, Themes, Ideas and more for Youth Work
only for private using
Plastic police car and fire engine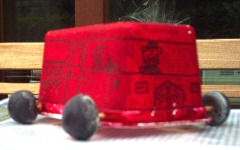 Material:
Plastic boxes e.g. butter pots 13 cm x 8 cm
Acrylic paints in black and red, green cotton balls Ø 2,5 cm
2 kebab sticks
0.5 mm brown wooden balls
Yellow card leftovers
White paper A4
Permanent markers in brown, red, green, black and blue
How to make it:
Rinse out the plastic pot and dry it off. Remove 2cm from the lower edge for the car and make a vertical line with a pencil which splits the car into two parts.

The lower half and the roof of the fire engine should now be coloured in red. The lower part is coloured in green for the police car. A permanent marker is used to draw the windows free hand.

A sharp pair of scissors is used to prick four holes into the bottom edge for the wheels.

Cut the kebab sticks to size so that they can be used as axles. Colour the cotton wool balls in black, leave them to dry and attach them to the sticks which have now been stuck through the holes. To finish off you can now attach little brown beads onto the ends of the axles.

Cut out headlights and taillights from the yellow card and stick them onto the front and back of the vehicle.

In order to attach a blue light to the police car you can cut a 5cm strip of paper from an A4 sheet, roll it up and stick the ends together with glue. Use a blue pen to draw the blue lights to the left and right. This is now attached to the roof of the car. You can decorate the car with other details using a felt tip pen or a permanent marker.
[ © www.youthwork-practice.com | 2000 Games and Ideas for Youth Work ]