source: www.youthwork-practice.com | 2000 Games, Devotions, Themes, Ideas and more for Youth Work
only for private using
Pots with leaf pattern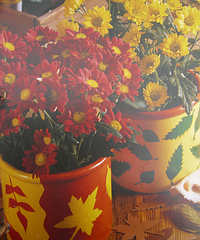 Material:
You will need the following materials:
2 clay plant pots (diameter approx. 15 cm)
Acrylic paints in yellow, orange and green
Paint brushes and scissors
1 sheet of card
Crepe sticky tape
Clear varnish
How to make it:
The leaf patterns are most effective on simple clay containers. The acrylic paints do not always with one coat on porous surfaces; you may need to apply two base coats. You must allow each layer of paint to dry before the next coat is applied! Only choose simple outlines for the leaf stencils such as oak or birch leaves. If you do not like the structure the paint brush makes you can use spray paints.
You should make sure that the room is well ventilated! The pots are then varnished at the end; this makes them waterproof.
Craft instructions:
Paint a pot half orange and let it dry. Then paint the other half yellow.

Paint the other pot evenly with yellow paint and let it dry. Paint the rim orange.

Produce a stencil: draw leaves on card and cut around the edges.

The stencils are now attached to the dried pots with the help of crepe sticky tape.

Paint in the leaf motives with green, yellow and orange and let them dry.

Once everything is completely dry you can remove all of the stencils and spray the pots from the inside and outside with clear varnish.
[ © www.youthwork-practice.com | 2000 Games and Ideas for Youth Work ]