source: www.youthwork-practice.com | 2000 Games, Devotions, Themes, Ideas and more for Youth Work
only for private using
Relaxing deckchair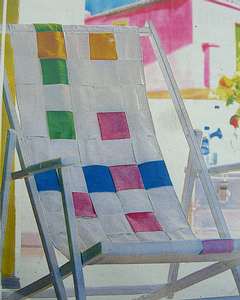 An old cover is no reason to throw a deckchair away!
Material:
You need the following craft material:
An old deckchair
White cotton fabric in the length of the deckchair cover plus 20 cm extra
Cut offs of single coloured cotton fabrics
Craft and dye paints in white
Clear varnish in matt
Paintbrushes
Sanpaper
Pin needles, stapler
Measuring tape and scissors
Craft instructions:
For repainting the deckchair push the old cover as far as possible into the middle and pin it down. Sand the frame. Paint the frame with two coats of white paint and then cover it in a matt lacquer.
Measure out the length of the cover for cutting the braids. The measuring tape is placed on the underside of one of the flaps and is led over the cover to the reverse underside of the other flap. The finished length of the braids should be determined by measuring the cover width, adding 2cm excess materials and dividing it by 5.

Now 5 strips of white cloth are cut to size for the vertically running braids. These are measured out at double the length of the width and the lots of strips of coloured fabric for the horizontal braids are cut at the width of the cover multiplied by the double the calculated strip width with 1cm extra fabric around the edges. Fold over the vertical strips in half – right to right. Stitch them together along the long side and turn them over. Place the seam on an edge and iron it. Place the vertical strips next to each other and braid them together. Fold over the ends of the band with 1 cm and stitch them to the surrounding band.

The cover is stitched around the edges. Finally the new cover is place over the old cover and is tack at the edges.
After the hard work you can now test out the stool and relax in the sun with a cool glass of juice!
[ © www.youthwork-practice.com | 2000 Games and Ideas for Youth Work ]