source: www.youthwork-practice.com | 2000 Games, Devotions, Themes, Ideas and more for Youth Work
only for private using
"Seal" door sign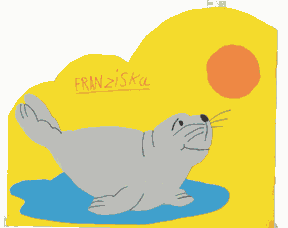 A nice craft because the kids can hang the sign up on their bedroom door afterwards. In addition, the door sign includes their own name and an individual note.
This is suitable for children of primary school age and takes approximately half an hour.
Material:
Coloured paper
Card for stencils
A black fine liner
A fine liner in another colour (orange or blue)
Templates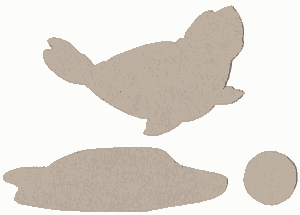 Preparations
First of all the templates must be transferred onto card and cut out. It is recommended that you make several stencils for each part (one set for each group of three children).
Process
Draw the parts onto coloured paper with the help of the stencils and cut them out. Stick the water, then the seal and then the ball onto a sheet of coloured A4 paper. Draw details onto the seal with the black pen (see example). You may need to help the children here. The sheet must then be cut into a nice shape. This can vary from child to child. The important thing is that they draw it out first. At the end the children can also draw their names over the seal. Use a coloured pen for this. It is a good idea to draw the lines out with a pencil first. You can go over the lines with the coloured fine liner leaving the pencil lines underneath.
[ © www.youthwork-practice.com | 2000 Games and Ideas for Youth Work ]