source: www.youthwork-practice.com | 2000 Games, Devotions, Themes, Ideas and more for Youth Work
only for private using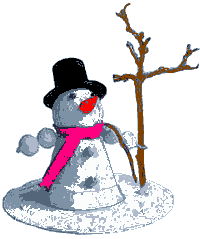 "Snowman"
This snowman is allowed to be built in a child's bedroom. You will need (plastic) flower pots, cotton wool cones for the arms and head, white paint, beer serviette and glue. Additionally you will need: felt, buttons or little balls, half beads for the eyes and a cylinder made from black cardboard for the decorations. As a carrot nose you can use felt or a piece of wood.
[ © www.youthwork-practice.com | 2000 Games and Ideas for Youth Work ]