source: www.youthwork-practice.com | 2000 Games, Devotions, Themes, Ideas and more for Youth Work
only for private using
Table football game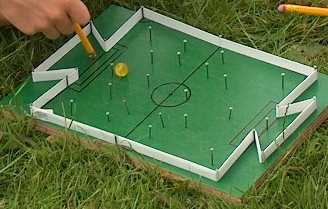 For this table football game you will need a board (plywood board) in green, a black or white pen, nails, a wide rubber band and a marble. First of all the board is painted green. When the paint is dry the playing field can be painted on. At the edge of the playing field an elastic band is built with the help of a rubber band. The rubber also serves as a goal (see picture). For this you should simply nail the nails into the edge of the playing field and place the rubber band around them. The band must (e.g. with a stapler) be made into a band without an end and should not sit too loosely because it should bring a ball back into the field. Now you only need to spread 22 nails in the playing field and the gaming fun can begin.
The rules!
Using a pen each player tries to score a goal with the marble in the opponent's goal. The players swap turns after every shot. The difficulty level depends on the pattern formed by the nails on the board.
Variation:
Instead of a football field you could also use other colours and paint a basketball field on the board and make indents in the board (almost like a basket) instead of a goal. Place a band around it, spread out the relevant number of nails in the playing field and the game of basketball is ready to play.
[ © www.youthwork-practice.com | 2000 Games and Ideas for Youth Work ]