source: www.youthwork-practice.com | 2000 Games, Devotions, Themes, Ideas and more for Youth Work
only for private using
A toy raft
Small streams and banks are one of the best adventurous playgrounds, nature has to offer to children. Particularly during the warm season. Children just love to make little rafts and then organise their own regattas. Crafting a little toy raft for all this fun is not difficult at all.
What you will need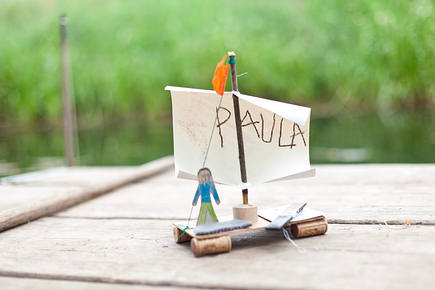 toy raft | ©: kristall - Fotolia
Cork
A thin, about 15 cm long board
A possible straight branch
A piece of paper or cloth, which is just as about as big as the board
Glue
Instructions for a toy raft
First you glue the corks to the bottom side of the board. It is sufficient, to just one cork at each corner of the board.
Now take another piece of cork and cut off about one-third. This piece then is glued on the top side of your board, roughly in the middle, which then serves as a base for the mast.
Now take your paper or cloth and cut a small hole in the top and bottom and stick a small branch through and this is anchored in the top cork piece. Now your little raft is ready for the regatta.
[ © www.youthwork-practice.com | 2000 Games and Ideas for Youth Work ]