source: www.youthwork-practice.com | 2000 Games, Devotions, Themes, Ideas and more for Youth Work
only for private using
Walnut boats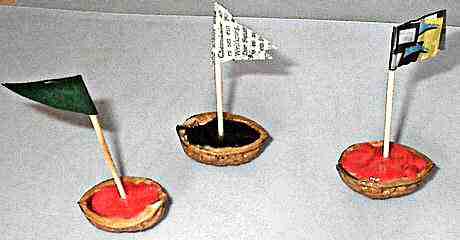 Material:
Walnuts, dough, toothpicks, paper, glue and scissors
Craft instructions:
First of all the walnuts are halved and the inner part of the nut is removed. The walnut halves are then filled with dough. For the flag, a little square piece of paper (e.g. coloured copy paper or newspaper) is cut out, is folded once and is stuck to a toothpick. You can also write your name on the flag. The flag is now stuck into the dough inside the walnut half.
The finished boats can be put to water and an exciting race can be carried out.
[ © www.youthwork-practice.com | 2000 Games and Ideas for Youth Work ]