source: www.youthwork-practice.com | 2000 Games, Devotions, Themes, Ideas and more for Youth Work
only for private using
Paper weight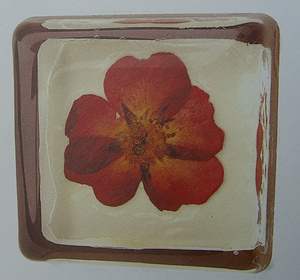 No one will believe that you have made these wonderful paper weights by yourself. Obviously you will have to buy glass and varnish from a retail store but you can use your own picked and pressed flowers.
Material:
You will need the following craft material:
A glass paper weight with a concave part on the underside (these are available in good craft stores)
Pressed flowers
Clear varnish
Cardboard and scissors
Felt (with self-adhesive backing if possible)
Craft instructions:
Pour a little varnish into the concave on the underside of the paper weight. Carefully move the varnish around to cover all sides and to spread the varnish evenly.

Carefully place the flower onto the varnish facing downwards. Pour enough varnish over the flower so that it is completely covered.

Sway the paper weight carefully back and forth once again in order to distribute the fresh varnish evenly. Let the varnish dry for four to five days.

Cut a piece of cardboard to size so that it fits exactly on the underside of the paper weight. The final step is to attach a piece of felt.
And the letters can arrive! Your paper weight will have plenty of work to do.
[ © www.youthwork-practice.com | 2000 Games and Ideas for Youth Work ]