source: www.youthwork-practice.com | 2000 Games, Devotions, Themes, Ideas and more for Youth Work
only for private using
Distinct wrapping paper
Surprising others and spread the joy depends not just on the choice of gifts but also the way you use your imagination to select the paper for wrapping it. An original wrapping paper can be made in a few minutes.
What you will need: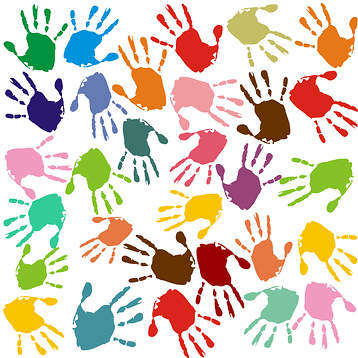 Distinct wrapping paper
©: Hans-Jörg Nisch - Fotolia
A large sheet of paper
Different coloured watercolours
Instructions
First, you need to fix your sheet of paper on a base. (You also can use wrapping- or a roll of white wallpaper). Next you paint your entire palm with one colour. Now use your hands to make prints on the paper. Leave enough space between the hand prints so you also can add a few footprints.
Important: Before you change the colour for your hands and feet, make sure the previous colour is thoroughly washed off.
[ © www.youthwork-practice.com | 2000 Games and Ideas for Youth Work ]