source: www.youthwork-practice.com | 2000 Games, Devotions, Themes, Ideas and more for Youth Work
only for private using
Connect 4- making- and Games evening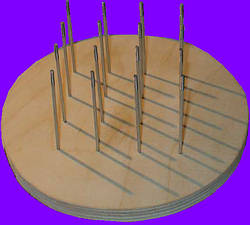 | | |
| --- | --- |
| Preparation time: | 30 Minutes |
| People: | from 6 |
| Duration: | 1.5 hours |
| Material cost: | medium |
| Age: | 10 onwards |
| Location: | indoors |
| Season: | any |
| Activity level: | minimal |
| Materials: | Wood, metal pin or wooden rods, drill, marbles/beads with a hole |
| Goal: | Handicraft und games |
| Summary: | First the game is made, following this a tournament is started |
Description: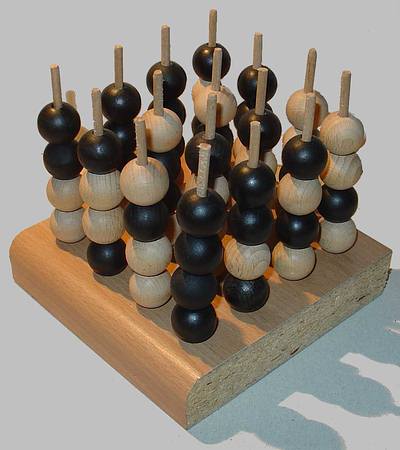 The game 'Connect 4' is a game for 2 people. With simple materials, several 'Connect 4' games can be made, followed by a tournament.
Aim of the game
The aim of the game is to connect 4 marbles/discs in a row (horizontally, vertically, diagonally, and obliquely). Taking it in turns, each player places a marble on a rod. Whoever is first to get 4 marbles in a row, wins.
Playing a tournament
If there are several game boards available, a 'connect-4' tournament can be set up. For each game won, one point is given. After each game, swap partners. Who will have the most points after an hour/once all the participants have played against each other? Each game takes approximately 1 – 5minutes (maximum).
Making instructions:
Using a drill, make 4 holes (at equal distance) on a square wooden board. Stick tooth picks or kebab skewers onto the wood. Pre-bought round wooden beads in 2 different colours serve as game-pieces. Other making options are of course possible. The main things needed are a wooden board, 16 rods (wood/nails), and games-pieces (beads, mill/checker pieces with holes drilled into them) that can be stuck onto the rods,
Contribution from Ronnie Berzins
[ © www.youthwork-practice.com | 2000 Games and Ideas for Youth Work ]