source: www.youthwork-practice.com | 2000 Games, Devotions, Themes, Ideas and more for Youth Work
only for private using
Casino evening
Athmosphere: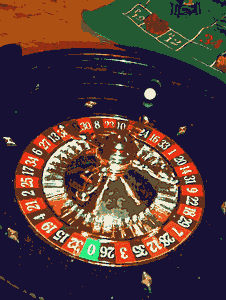 All players and members of staff dress in smart clothes (suit, ...).
At the entrance the visitors are checked by bouncers (sun glasses, ear piece, metal detector ...).
The casino is stylishly and nobly decorated.
Soft music is playing in the background (Jazz, ...).
There is a bar from which drinks and little snacks can be bought for money from the casino.
Games table:
Roulette: This game cannot be missing from a casino evening. If you do not have this game available you can also print out a game plan and the game can be played with a lucky chance (calculator, dice ;-))
Poker: A total classic amongst games of luck.
17 and 4 / Black Jack: This game is a casino must.
Hat game: The good old hat game is very funny and entertaining, however the game leader requires a skilful fast hand. As an option, you can also play this with 3 playing cards.
Dice games: There are a never ending number of possibilities.
Other popular games/luck games can be offered according to taste which might be played without a game leader if necessary. (Liar's dice, ...).
Betting games:
As a break, or as a highlight to the normal games, betting games can also be offered. Several volunteers agree to play against each other with a certain stake. All of the other casino visitors can now bet on the competitors. Once the tasks have been performed, the winnings are paid out.
Possible tasks: drinking a stein, arm wrestling, finger fighting, ...
Other elements can also be built into the program (Fake money, Jackpot, Mafia, ...).
Aim of the game:
Sweep up as much money as possible
Author: This entry comes from Christopher M.
[ © www.youthwork-practice.com | 2000 Games and Ideas for Youth Work ]