source: www.youthwork-practice.com | 2000 Games, Devotions, Themes, Ideas and more for Youth Work
only for private using
Easter egg hunt and quiz game
Different coloured paper eggs with tasks and quiz questions are hidden in the playing area. These eggs must be found and the tasks must be performed or the questions answered.
Preparation:
Copy all eggs onto coloured paper. A full set is = 12 eggs of each colour
Each group has its own colour
Cut out all of the eggs
Hide the eggs in the playing area (whether in the woods, in a residential area or a grassy area)
Task:
Each group must hunt for the eggs in their own group's colour (and leave the others alone!)
Perform the respective task
Judging
1 point for each egg found
1 point for each task performed correctly
Solutions:
There are nine words hidden here which have something to do with Easter – forwards – backwards and diagonal!
Answers
Mary
Jesus
Nails
Peter
Angel
Cross
Life
Joy
Egg
---


You must hunt for 10 eggs in this colour and perform the tasks. Please leave eggs with other colours alone for the other groups! Be at the community centre at 18.45 at the latest





What happened to Jesus on Good Friday?
What happened to him at Easter?
Answer the questions here or on the other side!




On which animal did Jesus ride to Jerusalem?
What did the people who saw him do?
Answer the questions here or on the other side!

CHOCOLATE
This is a word for a story. When you have found all three words on different eggs think up a story including the three words and recite the story to us at the end in the community centre!

OMELETTE
This is a word for a story. When you have found all three words on different eggs think up a story including the three words and recite the story to us at the end in the community centre!





What happened to Jesus on Maundy Thursday?
Answer the questions here or on the other side!





Where is a cockerel mentioned in the story of the suffering of Jesus?
Answer the questions here or on the other side!

RABBIT
This is a word for a story. When you have found all three words on different eggs think up a story including the three words and recite the story to us at the end in the community centre!







Sing a song in which a rabbit is mentioned!





Write a four-line poem dealing with the subject of the "Easter camp"

Try to find words which fit:
R...................N
E...................O
S...................I
U..................T
R...................C
R...................E
E...................R
C...................R
T...................U
I...................S
O...................E
N...................R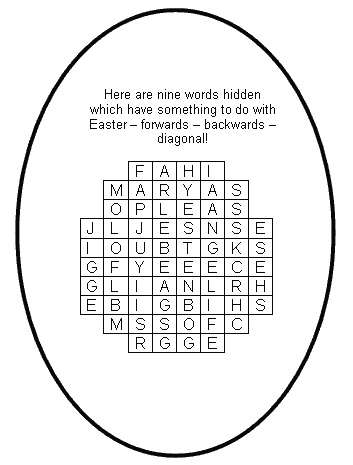 Answers crossword
Mary
Jesus
Nails
Peter
Angel
Cross
Life
Joy
Egg
Author: Beate Groß, Renningen
[ © www.youthwork-practice.com | 2000 Games and Ideas for Youth Work ]