source: www.youthwork-practice.com | 2000 Games, Devotions, Themes, Ideas and more for Youth Work
only for private using

The ultimate winter beach party
Preparations:
Everyone receives a written invitation for entry to the party: A list of requirements is given (e.g. Hawaiian shirt, bathing suit, shorts, flip flops, beach mat, diving mask, sun cream, beach hat, hand towel, sunglasses) and at least one beach toy.
Maybe you can even invite other teens who aren't members of the group to this event or group session? It is particularly attractive to organise this party in wintertime!!
Material
Brown or beige blankets or sheets (white ones are also OK) as islands.
Blue rubbish bags (= the seas between the islands. Danger: slippy)
Cardboard signs with group names
Sand (Warning!!! Only use sand on a ground which is easy to clean!!!! Otherwise leave this out - there will problems with the caretaker or hard cleaning up work afterwards.)
Bathroom spray with "ocean scent"
Beach toys (inflatable animals, beach mats, umbrellas and hammocks etc. (also as decoration)).
Cassette player or CD player (Sea sounds on CD or cassette (e.g. relaxation music) and hot rhythms for points C & F in the program).
Different fruit juices, cherries, pineapples and food colourings (for fruity cocktails), Blue-Curacao alcohol free, bitter lemon, lemonade, glasses or paper cups and straws.
Bounty and Raffaelo/Ferrero Rocher (for beach snack), toothpicks
Paper and pens for notes (beach song, beach story)
Broom stick handle (for point F: "Limbo time")
Red lamps, radiators (for a party in winter)
Prizes (e.g. Bounty bars, pineapple, coconuts, sun cream, caps, beach towel etc. (each competition is awarded with a different prize.)
Foreword
We have based the party around 4 small groups. The size of the groups should not be less than 3-4 players, otherwise you should make less groups. The length of the beach party should be around 2-2,5 hours.
Deco and preparations
Spread the blankets (depending on number of groups) out in the room. These blankets represent the islands of the individual groups. Spread out the sand (see above notes!!) on the blankets and place a cardboard sign with the name of the group on the island.
Suggestions for names: Palm Beach, Cote d'Azur, Miami Beach, Waikiki Beach... (you will find more in an atlas).

Fill the room with sea smells (bathroom spray) and sea sounds (some kind of relaxation CD).

It is always hot at the beach so the room temperature (in winter) should be turned up with the radiators and red lamps.

Decorate the room with the remaining utensils (own materials and beach toys). Tip: Yucca plants are very good as palm trees.

Split the participants into equal sized groups and send them to their islands/beaches.
Beach-Party tasks
The best palm tree creations
One player from each group is decorated as a "island palm tree". All of the materials available in the room can be used.
Time: approx. 10 minutes
Beach song
Each group must make up a red hot beach song to a well known tune (e.g. twinkle, twinkle or wild rover, Jingle Bells etc.).
Preparation time: approx.10 minutes.
The song is presented at the end.
Beach entertainment
All "island residents" must take part in the planned relaxation exercises (beach fitness to suitable hot rhythms or the Crocodile-Rock by Elton John – whatever you can get your hands on really). The group leaders show how it is done!
Time: 5 to 10 minutes
The beach cocktail of the year
Each group should produce a particularly tasteful and decorative beach drink. The resulting drink will be tested and judged by the group leader(s). Reward (for all): Bounty-Raffaelo snack (Cut the Bounties in half and stick a Ferrero Rocher/Raffaelo ball onto the halves with a toothpick) (you must prepare this!!!).
Time: 5 minutes for mixing the drinks and 10 minutes in total. The leftover drinks can be drunk, the heat will make you thirsty!!

Alternative: The group must mix as many alcohol free cocktails as possible. Recipes are provided (look in the internet for recipes). The decoration of the glasses etc. is also to be judged.
Beach story of the year
Each group receives a piece of paper with the following words: Baywatch, white shark, sand shapes, submarine, David Hasselhoff, radiator, portaloo, umbrella, milky bar, knight's armour. Stories should be produced and presented using these words (e.g. love stories, horror stories, dramas or crime stories).
Time: 25 minutes for preparation and 15 minutes for the presentation.
Limbo time
A dancing acrobat from each group dances "under the limbo stick" to the relevant music (= moving forwards beneath the pole, bent over backwards and as low down as possible)
Beach song recital and conclusion
A few little thoughts about Joy for example, are suitable for a devotional theme. God enjoys giving us joy. However the most important thing in our lives is the joy in knowing that God is our father and joy in knowing that our names are noted in heaven (enrolled). The best, and most durable, joy is the joy that God gives us. The joy we experience by being his children. That is a different joy than every joke and every kick. That is a joy which is still there in our deepest sadness: God always holds us in his hand, he holds us and never leaves us alone. (E.g. Philippians 4.4)

According to our experience, it is always better to introduce the devotion at the start of the evening. For one thing - despite all the fun we have with one another – it is the most important aspect. On the other hand, we cannot expect concentration from the kids after so many activities.
Anja Voges and Ilse Angerstein
Copy template:
Task: Beach story
The beach story of the year
Think up a story which the whole group can play a part in.
Type of story: _______________________________
The words must be mentioned in the story:
David Hasselhoff
Submarine
White shark
Radiator
Sand shapes
Portaloo
Umbrella
Knight's armour
Milky bar
Baywatch
---
Invitation to a beach party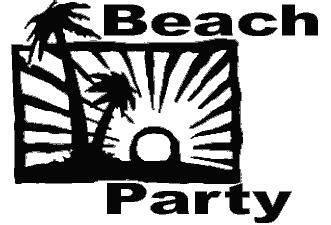 Summer, sun and sand ... and party time. Let yourself be taken to the red hot beaches of Malibu, Miami or Honolulu.
Let's have a Beach Party!!!
Please bring: Suitable beach clothing (e.g. Hawaiian shirt, bathing suit, shorts, flip flops, beach mat, diving mask, sun cream, beach hat, hand towel, sunglasses – if you don't have the right outfit, you don't get in!...) and at least one beach toy.
Meeting point and time:
Route:
Source/Copyright: This article was translated from German into English language by Praxis-Jugendarbeit.de. This article originates from the online Christian MAGAZINE, a magazine for members of staff of the "Christlichen Jugendpflege e.V". Copying the material is allowed for group sessions. The use – also in part – for other publications, particularly internet use, or for commercial use must be agreed/permitted by the editor! Contact us at: www.christ-online.de
[ © www.youthwork-practice.com | 2000 Games and Ideas for Youth Work ]