source: www.youthwork-practice.com | 2000 Games, Devotions, Themes, Ideas and more for Youth Work
only for private using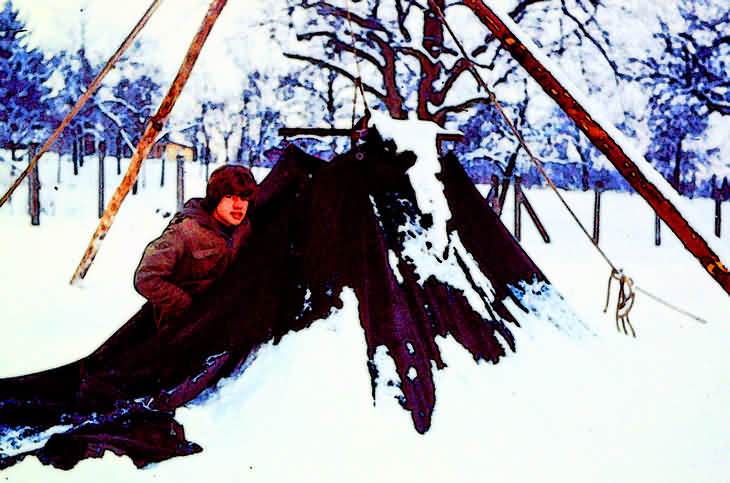 Camping in the Snow | ©: www.youthwork-practice.com
Camping in the Snow
Camping in the snow with a Kohte (a kind of tent coming from Lapland, a bigger one is a yurt) is not the slightest problem. However, it might be a little narrower and colder than in summer. Non-the-less, it is always a great experience to camp in the snow with a youth group.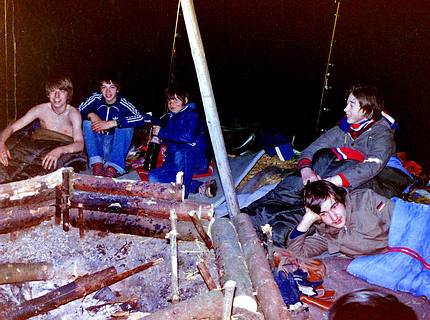 sleeping in a yurt with a campfire inside
©: www.youthwork-practice.com
What do I have to keep in mind?
Construction
First, find a suitable place where you can set up the tents. It is recommended to find a wind sheltered area. With the shovels clear the snow away until there is only turf left. That's where you construct your tents. You could use 3 instead of 2 Kohten / yurts rods if you expect a lot of snow overnight. Make sure the tent will hold this weight.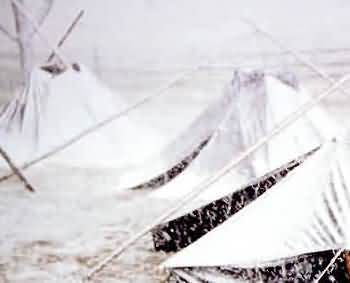 Camping in the Snow | ©: www.youthwork-practice.com
Floor Insulation
Cover the floor inside the tent with straw, clothes and blankets. Once we even lifted up the top layer of the turf, filled it with amber and covered it. Do that at several places within the tent. However, that is hard work, but at the same time, it does give up some heat. If you don't want to do that, just use blankets, furs, and sleeping bags, which will help to insulate from the cold.
What do you have to bring along?
Besides the sleeping bag, all kids are supposed to dress really warm. Warm clothing is in particular important for the outside. If you can't slip completely into your sleeping bag, a beanie will help to keep you warm.
The heating system
Whenever we used the Kohte, we made a little fire inside and secured the surrounding area with beams and dirt, so that the fire could not escape. Don't forget to have a canister of water ready just in case you should need it. Otherwise, there is a lot of snow around to help you putting out the fire.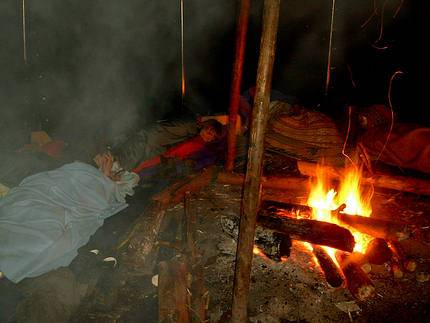 Camping in the Snow with a yurt; a fire inside the tent
©: www.youthwork-practice.com
However, if you do not have a Kohte or yurt available, it can get really cold. The smaller the tent, the closer the kids have to sleep, the warmer they will be. Then put 1 or 2 blankets on top of the sleeping bag, and everybody will be warm.
For the beginning
If you don't have any experience with camping in the snow, get a first impression of sleeping in the snow. After we had gathered enough experience with camping and sleeping in the snow, this led us to amazing events such as going camping each Easter holidays where the temperature in Germany is still far below zero.


Camping in the Snow | ©: www.youthwork-practice.com
[ © www.youthwork-practice.com | 2000 Games and Ideas for Youth Work ]