source: www.youthwork-practice.com | 2000 Games, Devotions, Themes, Ideas and more for Youth Work
only for private using
Dunny perch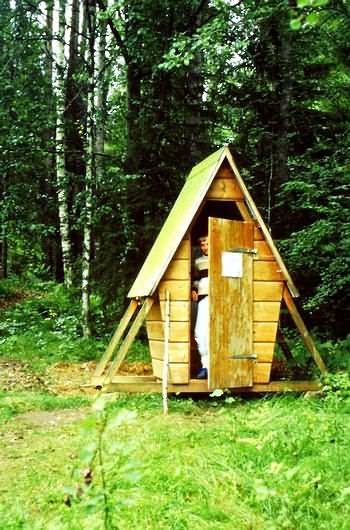 A dunny in Sweden
© www.youthwork-practice.com
What is a dunny perch? If you asked children and youth from today what a dunny perch is, I am almost sure, they would have no idea; leave alone having ever sat on one. Today's kids may know a dunny perch maybe as a ride at the carnival where 5 – 10 people sit next to each other, and off they go.
However, a dunny perch is an outside toilet. What you do is, you dig a trench and put a perch over it. There the persons can sit and relieve themselves. Depending on the length of the perch and drench several people can sit next to each other.
You can find some images on Google.
Well, if I think back of our dunny perches we put up in the middle of nowhere, covered in a few tarps …… well, that where times! Late we even made 1 – 3 little wooden huts, we put up close to the camp.
However, if you are hiking, there is, of course, no time to build an outside dunny. All you do, you take your spade and toilet paper and head to the bush. Dig a small hole, do your business and cover it up again. If you stay longer, however, an outdoor dunny comes in handy.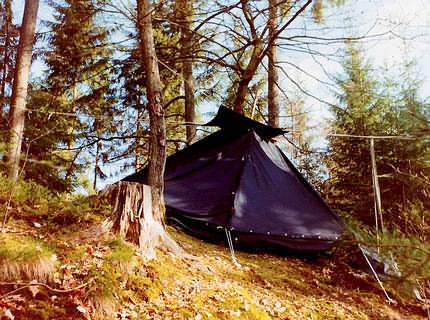 The dunny-perch-tent in the forest.
© www.youthwork-practice.com
In the early days, we just dug a hole, deep enough to last for a few days build a sturdy frame around with tree trunks and that was it. To cover it up a little we used branches and about 10 m away from the dunny a sign which would say either "busy" or "free".
The most comfortable outdoor dunny is built right at the foot of a cliff. There you could also lean back and enjoy. Once we built such a dunny with valley view. However, now and then the paper roll would disappear down there as well.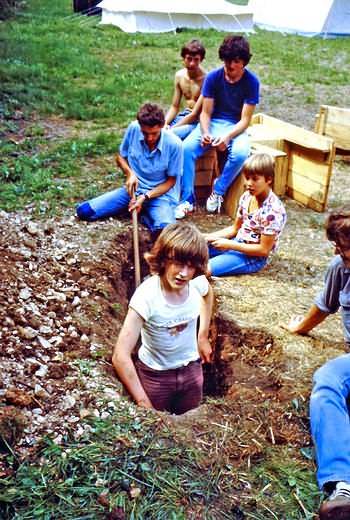 Digging the hole for the dunny perch.
Calculated for four weeks with 120 people...
© www.youthwork-practice.com
Later we used a wooden board with three holes. This board was held up by tree trunks. Tarps covered the dunny up.
If there is no forest close by the dunny has to be built about 30 m away from the camp. Depending on the wind you could smell where it was!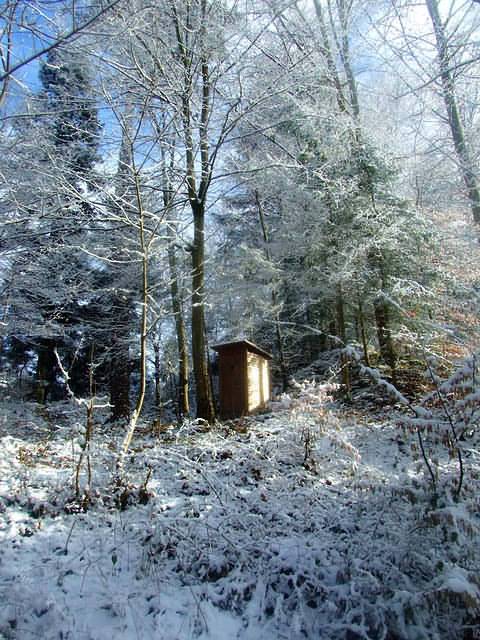 A portable toilet or a dunny perch must be
available at every outdoor camp.
©: www.youthwork-practice.com
For disinfection, we used bleaching powder. Every day, sprinkle a layer of chloride of lime into the pit and then some dirt over it. And not to forget, several times the day, the wooden board had to be washed as well.
At some point, we then bought three mobile toilets; we just had to assemble at the camp. There was the comfort of a door handle and a lock. Of course, this toilet was a quantum leap to everything we had before. But at night you would need a torch to go to the loo.
These days we order a chemical toilet which is assembled at the camp site. Times are changing indeed.
[ © www.youthwork-practice.com | 2000 Games and Ideas for Youth Work ]