source: www.youthwork-practice.com | 2000 Games, Devotions, Themes, Ideas and more for Youth Work
only for private using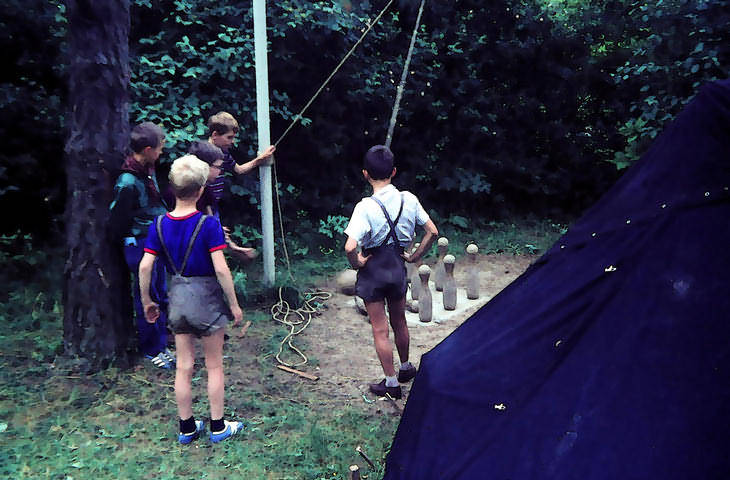 Gallows cones - Russian Cones or "Swing bowling"
©: www.youthwork-practice.com
Gallows cones - Russian Cones or "Swing bowling"
This type of cones is originally from Russia. It used to be very popular with children. I can still remember that we had such cones, as well as a 2-3 kg heavy wooden ball with eyelets. On the ground under a tree, there was also a cement platform. From time to time we set up the game and started a bowling contest.
In contrast to the regular bowling (straight forward movement), the Russian bowling is more of a circular motion or circular pendulum movement. The cones are played from the back. Depending on skill, kids are more or less successful. The highest score could be achieved if all nine cones fell with one pass.
What is needed?
A gallows or branch of a tree

9 cones

A 2-3 kg bullet suspended from the gallows or branch

A Large stone slab/patio slabs with markings for the 9 cones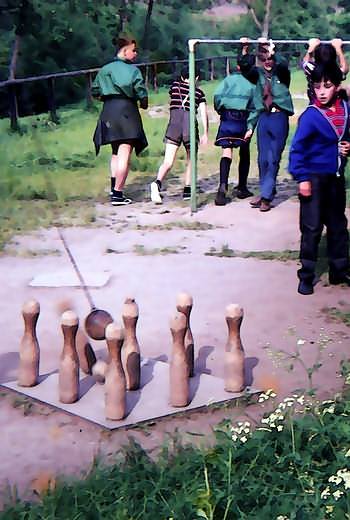 Gallows cones - Russian Cones or "Swing bowling"
©: www.youthwork-practice.com
The rules
There are no official rules. Everyone can set rules here, vary them and adjust them according to the age and skills of the kids.
Important:
Cones are played from the back. The ball is intercepted by a teammate when swinging back (after having already hit a cone). Hitting further cones while "swinging out" are to be prevented.
Different versions
Cones remain after every roll, who clears the last cone?

Each player has 3 swinging throws. The points are then counted — several passes.

Using or exchanging balls of different sizes makes the game easier or harder.
These skills are enhanced:
Skill is at the top of every throw. Kids need to assess the pendulum for it to hit the cones from the correct angle. – Always from the back, never from the front. The sequence of movements, the circular pendulum motion depending on the starting force of the hanging ball is to be estimated correctly. Over time, children will gain experience and a feeling to move the ball and control the swinging motion properly.
Conclusion:
this game is fun and can be played well with a smaller group. Since the set up is flexible set up, it can also be used as a game for a station game.
[ © www.youthwork-practice.com | 2000 Games and Ideas for Youth Work ]