source: www.youthwork-practice.com | 2000 Games, Devotions, Themes, Ideas and more for Youth Work
only for private using
Group program for February: Games with cotton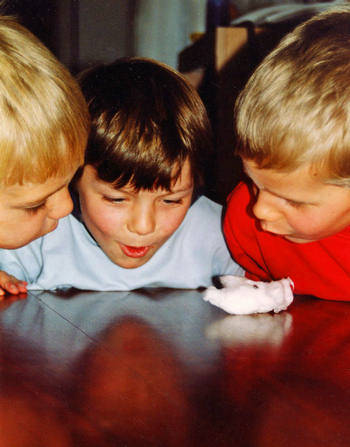 Blowing cotton balls
©: www.youthwork-practice.com
For February, I planned a game night in the group room with cotton. All you need to get are 1-3 cotton bags, which are available in every supermarket in the drugstore department. For one or the other game, you also need Nivea cream, drinking straws, elastic bands, and newspapers. I usually have these utensils in my toy box. Games with cotton can be relatively spontaneously implemented.
In the provided pictures, the games are easy to recognize and serve as an inspiration for your game night.
Here are the games in a kind of crash course:
Cotton sucker: with the straw suck up a cotton balls and transport it from A to B. If you want to make it a little harder, build a few obstacles along the way. If a cotton ball drops, you have to start again.

Creamy cotton ball: each player gets a dab of cream on his nose. Now they need to pass this cotton ball on from nose to the other. Over time, the cotton ball will be creamy all over and, therefore, heavier. The kids will need some skills to be successful!


Creamy cotton ball
©: www.youthwork-practice.com

Cotton ball puffing: blow a cotton ball over a table. Who can puff the furthest (without the cotton ball falling off the table)?

Blowing cotton balls: all the kids sitting around the table, place a cotton ball in the middle. Kids now need to blow the cotton ball to the other side. An absolute blast, where kids over time will run out of breath. A game, which you also can play at a kid's birthday party.

Cotton swab fanning: the objective is to fan a cotton ball with a newspaper through an obstacle course. Alternatively: hit with a multi-folded newspaper.

Balloon driver: inflate a balloon and use it to move a cotton ball through an obstacle course.


inflate a balloon and use it to move a cotton ball
©: www.youthwork-practice.com

Cotton spin: using a rubber band as a slingshot, a cotton ball must be thrown as far as possible. Alternatively, the cotton ball can be thrown through a ring/tire. Unfortunately, the flight behavior of a cotton ball is not as easy to predict as that of paper staple (paper cramp). It gets easier though when the cotton ball carries some cream. It may even stick to a target.

Cotton Scooping: Blindfolded, cotton balls have to be shoveled from one bowl to another bowl using a spoon. However, the target bowl is on somebody's head.
[ © www.youthwork-practice.com | 2000 Games and Ideas for Youth Work ]