source: www.youthwork-practice.com | 2000 Games, Devotions, Themes, Ideas and more for Youth Work
only for private using
Crafting with melting granules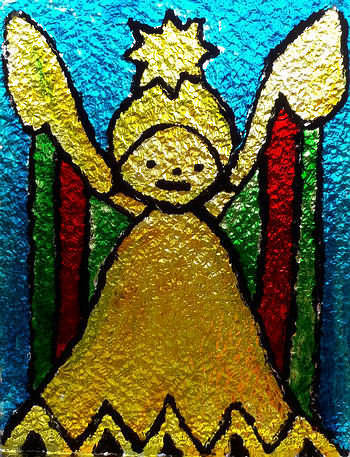 Crafting with melting granules
©: www.youthwork-practice.com
Crafting with melting granules was very trendy and popular 30-40 years ago. Today, this type of crafting is perhaps less known, but I would still like to introduce this activity. Even though, the possibilities have evolved somewhat.
Melting granules can be used to make coasters, colorful window pictures, mobiles, lanterns for the house and garden, Christmas tree decorations and neat, creatively designed pendants.
What you need:
Different colored granules from the craft store.

Metal mold (e.g., tin lid with upturned rim)

Oven

If necessary, nylon thread for hanging.
This is how the works of art are made from melting granules
The different colored granules are placed on a metal base. Combine colors and shapes as you wish and according to your artistic taste.
Once the mold is well covered with granules, carefully place the metal mold with the granules in an oven previously preheated to 180 degrees. After 10 - 15 minutes, the granules should be melted. Carefully remove the metal mold from the oven, wearing gloves.
Allow the tray to cool, and then remove the melted granules from the tray.
If there are sharp or unsightly edges, they can be treated with sandpaper or a file. Then once again, place the artwork in the oven for a short time.
A hole is drilled with a hot nail to which you attach the string for hanging.
Practice creates creative works of art.
With a bit of practice, you can come up with even more ideas. For example, dried leaves, or small stones, or other suitable objects can be burned into the granules.
Even glasses can be decorated with granules to create beautiful lanterns. To do this, you need a special adhesive (for example, Creartec). The glass is coated with glue to apply the granules. The glass is also placed in the oven preheated to 180 degrees. Depending on how fast the granules melt (drops melt more quickly than an even surface) and the end product, you can take the tray with the glass on it out of the oven and let it cool down.
Notes
According to the manufacturer, the melting granules are safe for health. They can remain in the oven at 180 degrees for 10-20 minutes. The odor produced during the melting process is also harmless. Those who still have concerns should opt for other craft ideas.
The firing process and the removal of the hot artwork should be done under the supervision of an adult. Potholders for removing the sheet are absolutely recommended.
[ © www.youthwork-practice.com | 2000 Games and Ideas for Youth Work ]