source: www.youthwork-practice.com | 2000 Games, Devotions, Themes, Ideas and more for Youth Work
only for private using
Tipp-Kick - the all-time classic of all table soccer games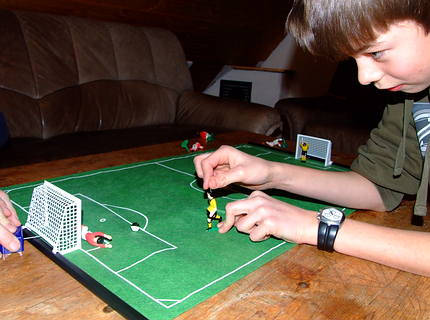 Tipp-Kick - the all-time classic of all table soccer games
©: www.youthwork-practice.com
The game Tipp-Kick is around for almost 90 years and has remained virtually unchanged. It accompanied generations of (mostly) boys through their teenage years, but even years after it enjoyed great popularity. Maybe these days with PlayStation and games consoles that has a little bit changed. Nevertheless, the Tipp-Kick tournament was always a hit with the kids.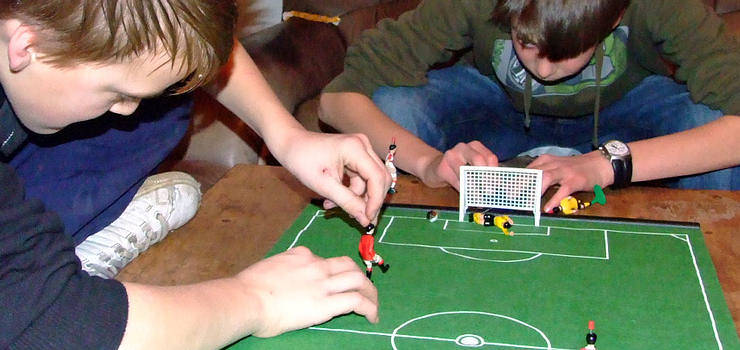 Tipp-Kick - the all-time classic of all table soccer games
©: www.youthwork-practice.com
How do you play it?
Using a figure, you have to shoot a twelve-angular small black and white plastic ball in the challenger's goal. To get the figure to kick a button is pressed on its head, which then triggers the kicking. The goalkeeper had a button as well. Pressing it, he can fall to his right or left respectively. The beginner is decided by throwing the ball. Depending on the majority of the colour of the players, this team begins. The winner is this team, which scored the most goals after a pre-set time.
The game is played on a felt mat with the a lined out field.
For our tournaments we had 1-2 games in out toy box, if we needed more we borrowed them. The game folds small and, therefore, fits nicely into a small box and can easily be taken on holidays and camps. However, you have to ensure that the ball is not lost. Spare balls and a few substitute play figures are beneficial.
The Tipp-Kick professionals have several different players in the repertoire, which differ in the shot legs. Some have a heavier leg, others a somewhat flatter foot, for a strong shot, or a gallant lob right over the defender.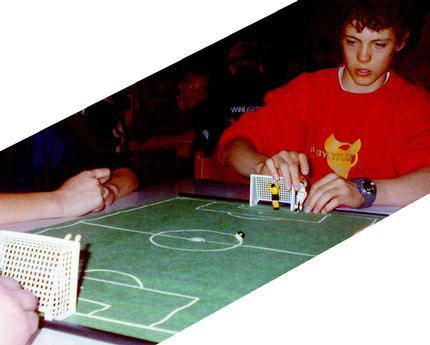 Tipp-Kick - the all-time classic of all table soccer games
©: www.youthwork-practice.com
What qualities are required for Tipp-Kick?
The Tipp-Kick requires calm and concentration, good judgment, skill and dexterity, as well as a little feeling in your technique. The goalkeeper needed reflexes - like they do in real football as well.
The Tipp-Kick tournament provides fun and you can implement it spontaneously to substitute for another group program.
[ © www.youthwork-practice.com | 2000 Games and Ideas for Youth Work ]