source: www.youthwork-practice.com | 2000 Games, Devotions, Themes, Ideas and more for Youth Work
only for private using
Indoor Hockey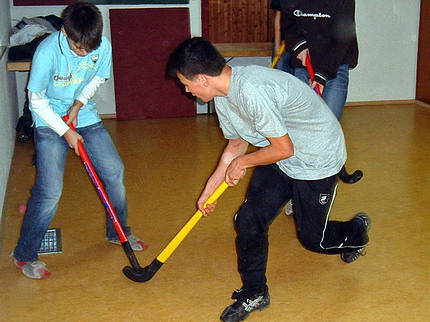 Indoor Hockey Tournament
©: www.youthwork-practice.com
With a set of hockey sticks for the hall or the small play field, a suitable group room can easily serve for an indoor hockey game. Depending on the space available, a team consists of, 3-4 players. If you think a puck is too dangerous (Attention disc!), you can also use a small foam-, plastic-, or tennis ball. A table or chairs can be used as goals. The hockey game is a very dynamic and fast-paced game. With the puck/ball guidance, the acceptance of delivery of the ball, good reactions and technique are needed. Playing around, playing out or playing together, it all depends on tactics, coordination and good team play. Therefore, hockey is an ideal and diverse team game.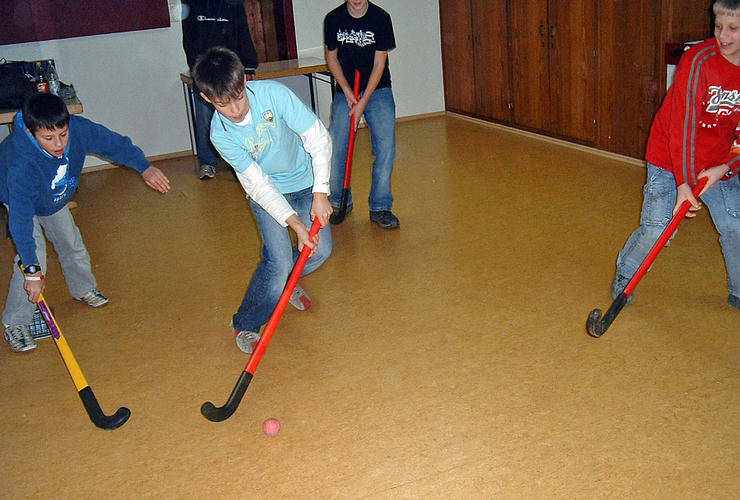 Playing Indoor Hockey
©: www.youthwork-practice.com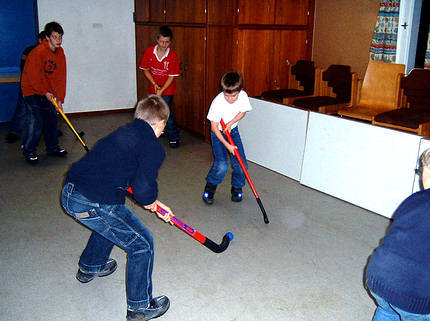 Hockey Game
©: www.youthwork-practice.com
To minimize the risk of injury greaves may be appropriate. In any case, the hockey stick must not be used as a "club" or be fully pulled through when attempting to hit the puck. It is crucial, to watch carefully, in particular, inexperienced players, to teach them a good technique with the hockey stick. Over time, however, the kids learn how to use the hockey stick and then mastered the technique. Even if they run the floor at a higher speed.
If you do not have hockey sticks available, you can come up with one of those alternatives: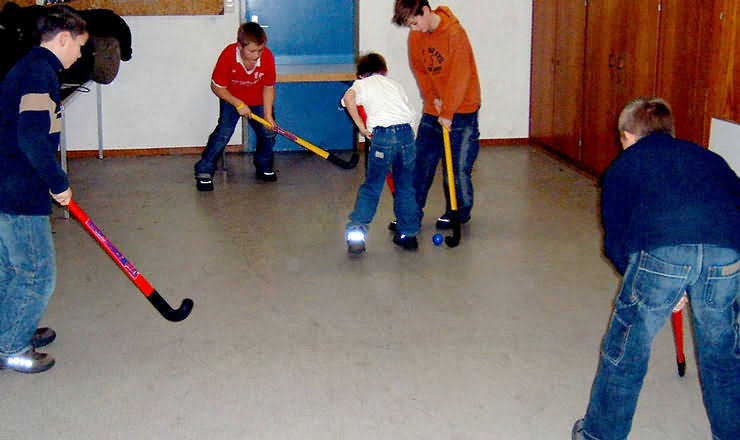 Hockey Game
©: www.youthwork-practice.com
Shoe Hockey:
Use your own shoe as a hockey stick. That's pretty funny when all kids sprint barefooted across the room, trying to get the tiny foam – or tennis ball into the opponent's goal, with the shoes in their hands. The shoe hockey is not quite as hazardous as the hockey with real hockey sticks. You are not allowed to use your foot to move the ball – maybe to stop it, but not more. You do not need a goalkeeper.
Toilet brush hockey
You can easily play hockey using a few toilet brushed. You should use a foam ball otherwise the handle of the toilet brush breaks too easily.
Housewife Hockey
Housewife hockey is played with a broomstick and a mop as a puck. This game is around for a very long time. Housewife hockey is not quite as fast and quick as conventional indoor hockey, but it can be played in almost any room with tiles- or linoleum floor. Housewife Hockey is usually played 1: 1 against each other, but can also be played with 1-2 more players per team.
Ring Hockey
With Ring Hockey a rubber ring serves as "puck". As a hockey stick you can use sticks such as broomsticks, relay batons, gymnastics bars, etc. As you can see from these variations: An Indoor Hockey Tournament using your youth centre is always somehow possible. Depending on the group- and room size you may opt for a quicker or a slower version.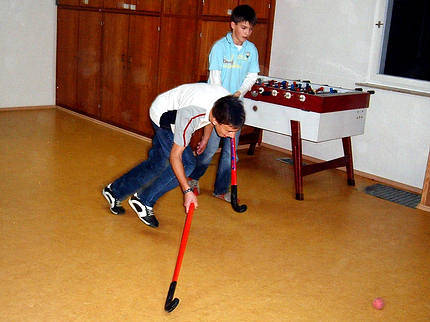 Indoor Hockey-Sticks
©: www.youthwork-practice.com
[ © www.youthwork-practice.com | 2000 Games and Ideas for Youth Work ]