source: www.youthwork-practice.com | 2000 Games, Devotions, Themes, Ideas and more for Youth Work
only for private using
Program Tip May: High Ropes Course
Abseiling, climbing on a rope, hand over hand on a rope, or balancing on a (low) cable-stayed bridge has always been a program point, which thrilled children and teenagers alike. Mostly, these elements have been incorporated into an obstacle course.
However, already the construction of a simple rope bridge over a small ravine and the subsequent secured balancing is the first step to get a taste of the thrill.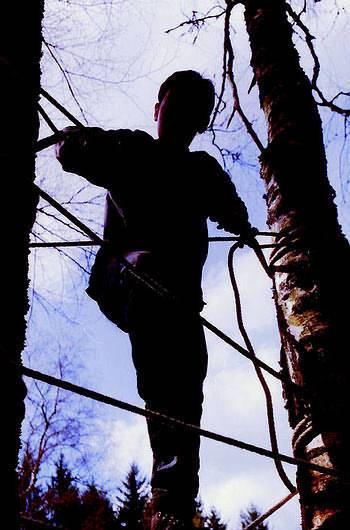 rope obstacle course
©: www.youthwork-practice.com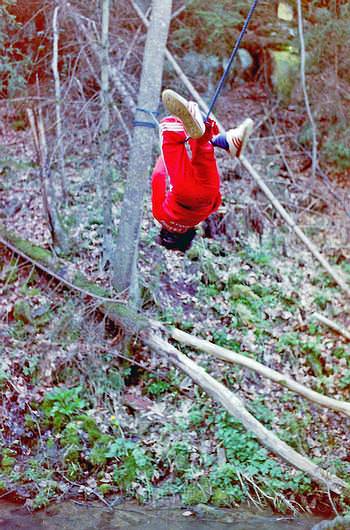 terrain obstacle course
©: www.youthwork-practice.com
Is there a High Rope Course in your vicinity? If so, there are a lot more tasks to be solved.
Tip: If you want to go as a group to such a high ropes course, call ahead and book an appointment.
But it is not just about these tasks, or the thrill. With this activity, the primary focus is on the adventure-based aspect to personal development - in the group, as a team, or every man for himself.
Beforehand it is not always clear, whether each child, youth or even adult is adventurous enough to climb a high ropes course.
A fear of heights, to fall, to stand on shaky ground those are all physical challenges. To overcome those fears, to gain self-confidence, rely and trust others and realize they are here to help and secure my climb are great learning curves for individuals as well as for the group.
To help each other, securing and strengthening your social competence
Transfer concept:
After such an experience you can talk with your group about what you just did.

What were the highlights?

Where you were afraid of?

Where did you have to rely on somebody else?

Where did you have to solve as a team a problem? How did you solve it?

What did you learn?

From what you have learnt today, how can you implement that in your everyday life? Can you give me an example?
My personal experience with such activities is, that kids who were scared at the beginning, eventually became very enthusiastic and gained a lot of self-confidence.

High Ropes Course
©: Tony Slewe - Fotolia
[ © www.youthwork-practice.com | 2000 Games and Ideas for Youth Work ]