source: www.youthwork-practice.com | 2000 Games, Devotions, Themes, Ideas and more for Youth Work
only for private using
Presents for the wall
Here I would like to present 2 craft ideas that can be used as a mural or wall decoration. Tips where you can find plenty of other creative craft ideas for wall decorations are described further below.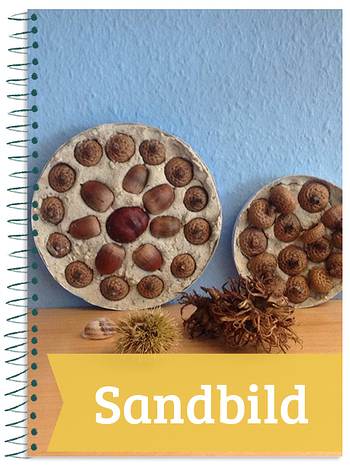 Sand Image
©: Monika von lilamalerie.wordpress.com, DIY-Galerie
Sand Image
In order to prepare a sand image following materials and tools are required:
One large cheese box
Chestnuts and other natural materials
500 ml of water
Masking Tape
1-kilo bird sand
Spoon
Bowl or bucket
Scissors
A whisk
That's how you do it:
First, mix the paste powder in a bucket with water. Let the paste rest for 2 minutes, then mix in the sand with a spoon. The mass should then be very thick and difficult to get off the spoon.
The mass is filled into the cheese box and so that it is about half full.
Now chestnuts and other natural materials are gently pressed into the doughy mass. For optimum hold, you should stick those objects about 2/3th into the base.
For the baser material to dry you should put your cheese box in a warm place; preferably where it is warm from the bottom. This can take several days. Finally, cut the edge of the cheese box in a way so that the edge does not overlap your base material. The edges can be covered with masking tape.
A mirror-mosaic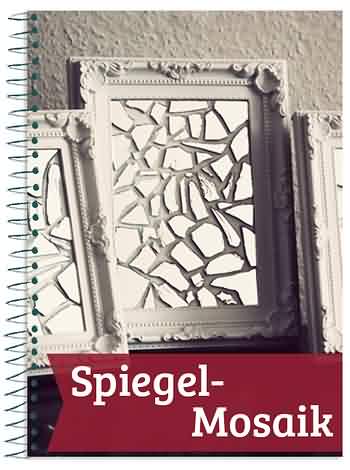 A mirror-mosaic
©: Sarah von rotkehlchens.blogspot.de, DIY-Galerie
A mirror-mosaic is a beautiful gift idea for any occasion. You can make the mosaic with little yourself.
What you will need:
Small mirror pieces or small mirrors
A picture frame
An old towel
Hammer
Superglue
Newspaper
So it's done:
First, the mirrors are all wrapped well in newspaper and then once again wrapped in a towel. Using a hammer, break all the wrapped up mirrors. Ideally, you take your parcel outdoors and break the mirrors on a stone floor.
Now unwrap your mirror pieces and carefully put them into a container. What is left should not be laying around because of the risk of injuries. Those shards are very sharp.
In the next step design the desired mosaic pattern by laying in out in the mirror frame. Maybe you will need a little patience here and a little trial and error until all shards are optimally matched.
Only if the desired pattern is found all the mirror pieces can gently be glued into place using superglue.
On this site (only in german language) https://www.kunstloft.de/diy-galerie/, you can find many more step-by-step craft instructions which can easily be followed. I think, the unique thing about this site is, that most things can be made out of everyday materials, which can be found around the home. With other words, materials you can recycle to make from the scratch new and great presents.
[ © www.youthwork-practice.com | 2000 Games and Ideas for Youth Work ]