source: www.youthwork-practice.com | 2000 Games, Devotions, Themes, Ideas and more for Youth Work
only for private using
Playing – A preparation for life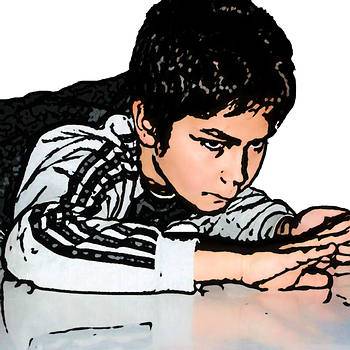 Skill games
©: www.youthwork-practice.com
In this article, I want to talk about games and their importance for the development of a child or a young person.
From popular bank advertising, we know the slogan "Every person has something that drives him". In my opinion, that is an excellent example, that everyone, including children, is driven by motives. As we take a closer look at children's play, we can see the different motivations and patterns of behaviour.
Games stimulate the mind, the imagination, and promote skills that work together or against each other, to arrive at a specific goal. All those things are essential to prepare for the future, for life. Playing is inextricably linked with the emotional development of a child.
Thus, playing serves as a means to an end in education. There is no stupid idea or wasted time. Playing is valuable time. Not as a silly idea, as lost time, but as a valuable experience. Therefore, it is recommended not to disturb or interrupt children while they are playing. Even worse, never dismiss playing time as childish, meaningless or a waste of time.
When playing you get to know the person behind
If you want to get to know a person, a child, a teenager, watch them while they are playing. Observing their behaviour will give you vital clues. You will see the persons attitude towards life; see how he sees himself and his environment.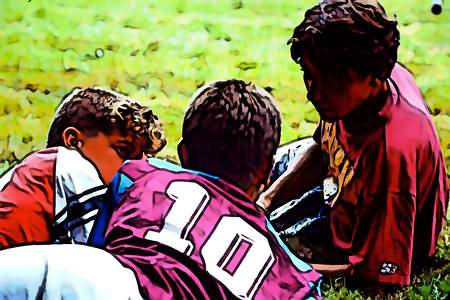 Group- and team games
©: www.youthwork-practice.com
Whether a child plays alone or with others, when playing, it more or less stands on his own feet. However, his decisions and achievements are always within in the context of his environment (teammates, competitors) which influence or enforce him.
Once again going back to the advertising slogan: "Everybody has something that drives him". This enables the observer, to recognise what drives the child in various games. Their motives are very well displayed.
Motives to play
There are three motives which are recognisable in almost every game. One of them usually applies or might even stand out:
Preparation for life
Sense of community
Dominating the game
Equally, there are different types of games:
Cooperation
Communication
Betting games
Competitions
Group- and team games
Quizzes and
Skill games
Game preferences to satisfy the player's needs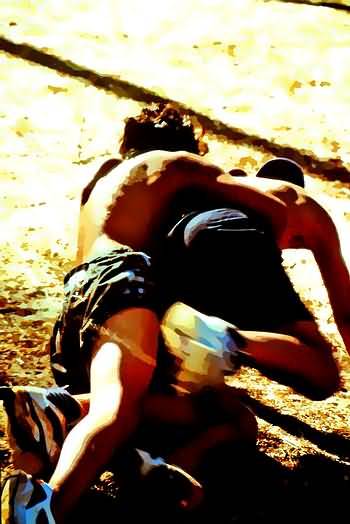 Choosing the right games
©: www.youthwork-practice.com
The preferred selection of game preferences shows the relationship of the player, the child, the teenager to his environment.
Is it friendly or hostile?
Is there a tendency to rule or cooperate?
What is the other player's place in the game?
Playing also shows where the child is at regarding living together. It will display the presence or absence of a community-based sense. Man is a social being. Therefore, the community spirit will play an important role. In the community, each child/adolescent has the opportunity to find satisfaction, affirmation, recognition as well as to find his place within his community.
Spoilsports – an expression of uncertainty
Children who react somewhat evasively, reject playing with others (no desire, too childish, ...) can turn into real spoilsports. Often, those children are insecure, have little self-confidence and display a lack of self-esteem.
In those children, the fear of failing is particularly pronounced. That is the child's reason to reject others or even to play. Because they feel insecure within the community, they are afraid of "surviving" in it. Therefore, the child sees itself unable to achieve recognition and avoids particular situations or playing altogether. In its extent, the child might become a spoilsport.
Level of community feeling
The degree of cooperation, cooperation and communication between the player and his fellow players shows the level of community feeling and his attitude towards life.
You will also recognise those children who show an inclination to command, to rule, to lead, and to prove their superiority and gain the upper hand. These children will play their part in certain games while refusing other games; always depending on satisfying their predisposition to take over and to defend their dominant role.
The role of fantasy and designing moments during play time
Finally: Playing involves a lot of imagination and design moments. These creative, creative moments are essential elements in the game. These are especially important to learn about tendencies of the child's future profession; his abilities.


Games stimulate the mind, the imagination, and promote skills that work together or against each other, to arrive at a specific goal. All those things are essential to prepare for the future, for life.
©: www.youthwork-practice.com
Conclusion:
Playing is vital for the development of a child. Both playing alone, or within a group (kindergarden, school, youth and association work) provide important experiences in preparation for life. Uncertainties, anxiety, but also social interaction or disturbances in the social interaction as well as learning together can be discovered and observed during play time.
I met many children and adolescents who initially could not lose. They were insecure and behaved uncooperatively. However, over the years, they changed in their behaviour for the better.
A youth leader can play an important role in the life of children:
Choosing the right games
Balance – games should have something for everyone
Recognising weaknesses of the individual
Giving feedback
Being encouraging.
This could be interesting for you...
[ © www.youthwork-practice.com | 2000 Games and Ideas for Youth Work ]