source: www.youthwork-practice.com | 2000 Games, Devotions, Themes, Ideas and more for Youth Work
only for private using
Camp raid on the camp site
It can sometimes be (no) fun!
A well planned raid is part of a camp. The kids talk about the camp raids for years to come, therefore a raid can be an important event on the holiday. I personally believe that a good raid is part of every good camp and I have mostly only experienced good ones.
However, there can unfortunately also be less good raids, which get so out of control, that they really aren't fun anymore. I find less good through to downright unacceptable:
If the raiders only want to ransack the place
If they are slightly/totally drunk
If people become aggressive and cause intentional injury to others
Damage to property and use of other participants property
The kids don't have any fun (out of fear and because the raiders are boisterous) and only the staff have to deal with the raiders or wallow in the mud.
What are the negative factors?
Unknown raiders

Totally unknown raiders, who want to have some and really want to quickly cause a stir in the camp, are very difficult to judge. It can quickly come to misunderstandings and an escalation in violence, especially if one or two unwritten laws are stepped over. Drunken raiders, who wave a knife about uncontrolled or those who have a dog with them, are very difficult to judge.

Long-lasting raids and lots of raids

Raids can sometimes go on for a long time and carry on into the small hours. If more raids happen on different nights, the kids and the members of staff do not get enough sleep. I have already described the results of too little sleep under the subject "Nigh time quiet". I have already taken part in a 6-day camp on which raids took place on every night, 1-2 times per night. Some raiders could not find the camp and turned up at 4 o'clock in the morning. Since then, we have tried to use preventative measures (see below) to avoid such stress.

Damage to property and physical dangers

Damage to property by breaking open boxes, cars, doors or windows, which is caused by raiders who only want to get objects to trade in later, is going way too far. Fun stops here and turns into pure "stupidity". Even simple storming of the tents can turn into physical injuries, especially if the tent is a large pyramid tent with a heavy mast, tepees (lavvu = Lapland tent) or heated tents in which people are to be found. Using fireworks, especially throwing them into tents is taboo – this can cause serious injury.

Kidnapping

On one camp, a team of raiders really went over the top and kidnapped a participant, took him away in a car and set him out in the woods. The participant then wandered aimlessly through the strange woods. The raiders also got a fright and tried really hard to look for the kid. This action was not at all good and went decidedly too far. This is a very bad idea of the raiders do not really know the kidnapped and do not know how they will react.
Preventative measures
You surely won't be able to completely avoid unwanted camp raids. There are however a few ideas on how to prevent them.
No detailed location

Even if your camp is advertised on the internet, try to avoid naming an exact camp location.

Information to potential groups

Inform the club members or potential groups in advance if you really do not want to experience a camp raid (give reasons).

Make the raid rules clear

Make up clear rules for any raids and make them known. Put the rules on your internet homepage and send them to any potential groups. This means that everyone knows about the "game rules".

Agree on a time

Agree on raids and agree on a time (it is sufficient for the camp leader to know about it). This means that an unplanned raid can be recognised and the correct action can be taken (apart from if a planned and an unplanned stupidly manage to happen at the same time).

A directed raid

Or a camp raid ran by your own team of staff. This can work and if you have your own "script" which causes so much confusion and tohubohu that even some members of staff believe in the raid.
Understand fun – let the kids have their fun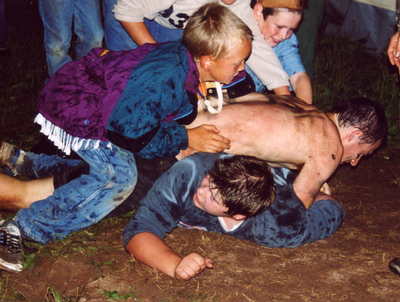 It is important to me that the kids have their fun with raids and not that us youth leaders have to roll about in the mud. The raid should not carry on until midnight. If the fun and the show works and the rules are obeyed, a camp raid really is top class, especially if:
The raiders allow themselves to be thrown into water (the kids find this fantastic)
The raiders let themselves be tied to the totem pole (that gives the kids a feeling of mastery)
You organise a treasure hunt with a hidden treasure (that gives the kids the impression that it is a friendly raid)
If you organise a large get-together in the reaction tent where participants tell the others about the braveness and the raiders make funny anecdotes about the raid.
Raid on a stranger's camp?
You will have to think long and hard about this. I have already done this before, but to tell the truth, I secretly discussed this in advance with the other camp's leaders (now I can let the cat out of the bag). The kids really had a lot of fun and it worked great because of the agreement in advance. If 50 kids sneak through the long grass or get across the river on a boat to perform an attack manoeuvre, it really is a great thing. I would not recommend this without organising the raid beforehand and reaching an agreement. The legal risk would be too high for me.
[ © www.youthwork-practice.com | 2000 Games and Ideas for Youth Work ]