source: www.youthwork-practice.com | 2000 Games, Devotions, Themes, Ideas and more for Youth Work
only for private using
Working with youths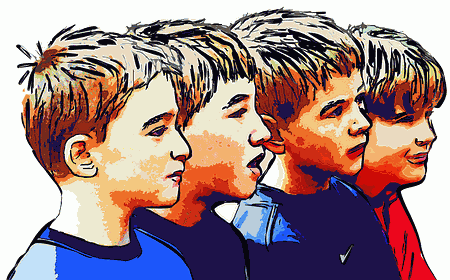 Working with youths ©: www.youthwork-practice.com
A definition of youth work
Youth work is a collective expression for all educational methods relating to youths which are not initialised and taken responsibility of by the parents nor by other family members, but by youth work. The three pillars of pedagogical development are: Family, school and youth work.
Characteristics of youth work:
Voluntary

The voluntary participation (market character): In contrast to family and school, the choice whether to follow the program offered in youth work or not remains a free choice open to youths. This "free-choice" aspect offers an attractive allure to those youths who are seeking some distance from the family and who see school as a "must". For this reason, it is important to make the openness and free choice aspect clear. However, this does not mean that a plan of action where all members of the team are required can suddenly be boycotted by a few group members. Once a group has grown together the learning process begins and they learn whether they can trust each other or not.

No performance controls

(A place free of sanctions): The youth work can also present a nice place in this context, because a high performance level is expected both in school and by their parents.

Less domination:

There should be a downward slope in power struggles between leader and group members. (In contrast to school where a constant and strong power is present.)

Age homogeneity:

The group leader is often not much older than the members themselves, or they might be more familiar and relaxed in the way they speak with the youths and in the way they dress, in comparison to school teachers and family members.

Flexibility:

The exercises on offer and what is undertaken is not fixed (like in a timetable), but can be put together using ideas and suggestions from the youths.

Directing needs:

What is planned and undertaken is directed towards the wishes of the group (in contrast to the family and school life).

Experience orientated learning

Openness

Open to plans.

Group orientated/team

No compulsory participation like in school and family life, but a sympathising group.

Social experience

Social experience with people of a similar age: possibility of breaking the social ties (family).

Protection and balance function

A protective and balancing out function in comparison to established institutions: Problems with parents can be discussed and problems in school can be swapped.

Youth work can point out and equal out any deficits in family life and in educational institutions.
Leaders and workers in youth work:
The professionalism in youth work is taking steps forward. Clergymen, pedagogical workers and social workers provide youth work alongside voluntary youth workers.
The voluntary youth workers are 20 years on average and are often scholars and students. The average length of service of a voluntary youth worker in Germany is 3 years. (Senior grades, time before training places...)
Possible motivation for volunteers:
Not because of money (there isn't any!)
It is fun, encourages self confidence, confirmation and inner strength.
Image improvement, becoming certain a character.
For the church.
For the love of the environment
Further education.
Testing out group formations, team building...
Bianca Johanning
Source: with kind permission from the Ev.-luth.Kirchenkreis Emsland-Bentheim. Translated into English by Praxis-Jugendarbeit.
[ © www.youthwork-practice.com | 2000 Games and Ideas for Youth Work ]