source: www.youthwork-practice.com | 2000 Games, Devotions, Themes, Ideas and more for Youth Work
only for private using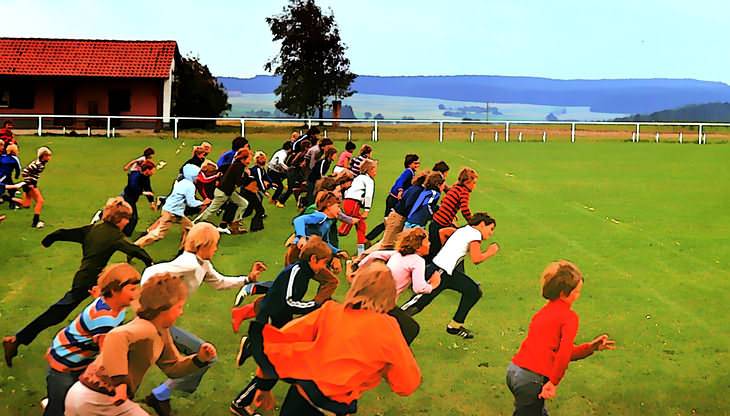 The lawn game "head or tail," also known as "black or white," is a running and catching game.
©: www.youthwork-practice.com
Head or Tail | Black or white
The lawn game "head or tail," also known as "black or white," is a running and catching game. It is a game for a somewhat larger group with the objectives of concentration and rapid reaction (pursuit or escape), and of course, speed.
To play this game you will need a large field. (A whole or at least half a sports field or meadow.) Divide the group into two equal teams. One is white; the other is the black team. Those 2 teams face each other in the middle of the field, about 3-4 meters apart. It's best to pull two long lines of sawdust where the crew members line up and face each other.
The game master throws a coin. Depending on what falls, he calls the color white or black (or head or tail). If white is called, then the objective would be to catch the black team. The black team does its best to escape by getting behind their lines. If a black member gets touched by a white member, he becomes a white member, as well. The ones who make it behind their sidelines remain black members. The goal is, therefore, as quickly as possible to completely dissolve the respective opposing team, or if a team was decimated, to recapture their members.
There are no winners or losers in the game because you may switch back and forth several times. You always have the choice to get your members back.
Variations:
All face each other and then must jump up quickly

Depending on the distance of the lines, it will be more difficult or easier
More lawn, running and catching games...
[ © www.youthwork-practice.com | 2000 Games and Ideas for Youth Work ]