source: www.youthwork-practice.com | 2000 Games, Devotions, Themes, Ideas and more for Youth Work
only for private using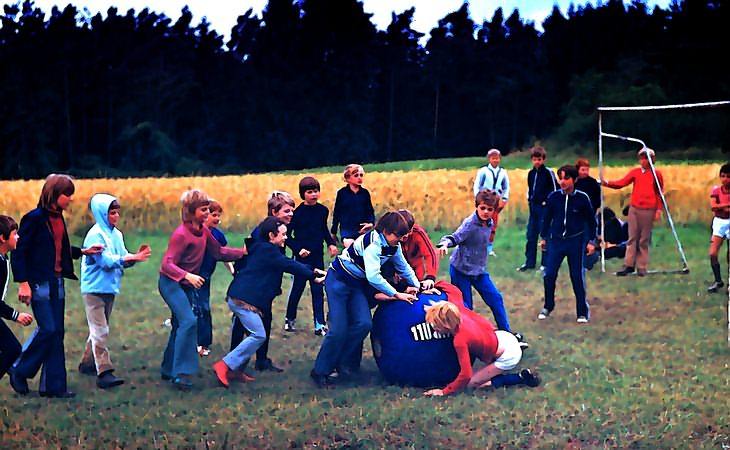 Playing with the Pushball
©: www.youthwork-practice.com
Earth Ball Games - Playing with the Pushball
Instead of soccer, try to play a lawn game with a big pushball. It does not matter how big a team is. No matter if a group consists of only 4-5 players or perhaps 15 players. Everyone can participate, an everyone is required. A pushball can be kicked, pushed, thrown, or carried. From football to rugby to skill games, all variations are possible.
The movement variants are interchangeable. Running upright, crawling like a bug, or sliding backward; arrange it to suit the occasion.
Try to get the pushball into the opponent's goal. No matter how. Pushing, pushing, kicking, running.

Crawling, hands, and feet on the grass, belly up - the push ball may only be shoved into the opponent's goal with its feet.

The pushball may only be touched back with or the butt. Hurry the push ball along by kicking it just with your butt!
The team effort always plays a significant role. Team spirit, cooperation, and game overview are the success factors to win.
Basically, there have been games with pushball for 100 years. Not only since Stefan Raab "Car Football-Contest" with oversized footballs. Maybe you could do it with your bike or piggyback. Those are just a few game variants.
Once you are through with all variations, the children will be out of breath too.
In the game collection, there is a section Earth Ball Games. There you find other games with the pushball. For example, slalom skill balls between standing up beverage bottles, or other various relay races.
More lawn games...
[ © www.youthwork-practice.com | 2000 Games and Ideas for Youth Work ]