source: www.youthwork-practice.com | 2000 Games, Devotions, Themes, Ideas and more for Youth Work
only for private using
Cloth Caterpillar Race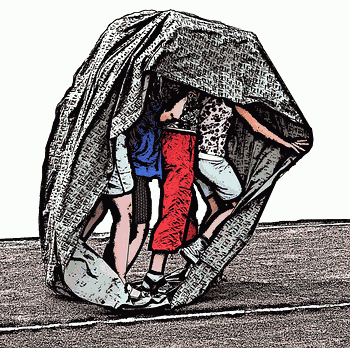 Cloth Caterpillar Race
©: www.youthwork-practice.com
For the Cloth Caterpillar Racing, you will need a strong material by about 80-100cm and a length of about 4-6 meters (the longer, the more people can or must race). The ends of the fabric are firmly sewn together.
One team gets underneath this cloth panel and on command embarks on the race or hurdle trail. The challenge is that the team always stays underneath the cloth, which needs skilful coordination of their movements. The aim is to move forward just like a caterpillar. This team coordination game is not all that easy. The better they work together, the smoother their forward movements will be.
After finishing the game, the cloth can be folded up and goes back to the toy box. This way you have it available the next time you want to play this game again.
This is another idea to the topic, creating game utilities yourself. This cloth has multiple uses and also fits well into the toy box.
More gaming and -utilities for station games:
[ © www.youthwork-practice.com | 2000 Games and Ideas for Youth Work ]