source: www.youthwork-practice.com | 2000 Games, Devotions, Themes, Ideas and more for Youth Work
only for private using
Stone age adventure game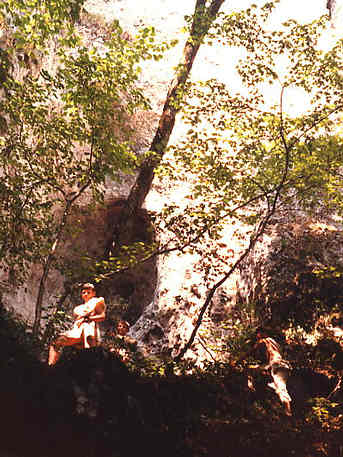 As an outdoor adventure game, all forms of outdoor games are imaginable. Instead of hunting the treasure, mammoth bones are hunted, instead of hide and seek with members of staff, dinosaurs are to be found. In a defending game for example, a camp fire is defended.
Fight for the fire
This game works almost in the same way as the game with the 3 sticks. Each group owns a camp fire (torches or plates with candles on it can also be used if necessary). Your own fire must be guarded while at the same time, trying to extinguish the fire of the opponent. The game can also be played with group members against staff.
Day adventure game
With this type of game, it is conceivable that a day long outdoor adventure game is combined with an overnight camp (dependent upon weather). This adventure game is split into different sections with different game elements. A short script to accompany the game is written. A group leader accompanies each group to lead, steer and judge. The tasks involved in each section are not given to the group before hand.
Section 1:

The group looks for a place to set up camp or is allocated a spot. The group must build a shelter for the night in this spot. The group must also build a fire and prepare themselves a meal.

Judging: Time needed, functionality, building method, contents

Section 2:

An overnight camp with night watch. Wild animals (members of staff) might be lurking around the corner to creep up on the camp and make off with some goodies.

Judging: Will the wild animals be discovered? How close will they get to the camp?
Section 3:

On the following morning, the tribe goes on the hunt und has a look out for other tribes (without attacking or making contact). The object of the hunt can be made from different coloured bands. Each tribe has a different coloured band.

Judging: How many bands are found and brought back to camp? Does the group know where the other tribe's camps are?

Section 4:

It will now be attempted to make contact with the other tribe members in order to swap animal skins (bands). The goal is to try and have the same amount of bands of each colour.

Judging: How many different coloured bands does the group have after the swapping action?

Section 5:

The whole thing has turned into a swapping disagreement. Each tribe now tries to steal the bands from the other tribes and put out their camp fire.

Judging: Which group has the most bands at the end of the game? How long is the fire defended? Has the tribe managed to keep their fire going or re-light it? (Lighters and matches are not allowed. Due to safety reasons, you should not allow anyone to run through the woods from one fire to another with a burning branch).
[ © www.youthwork-practice.com | 2000 Games and Ideas for Youth Work ]