source: www.youthwork-practice.com | 2000 Games, Devotions, Themes, Ideas and more for Youth Work
only for private using
Canyoneering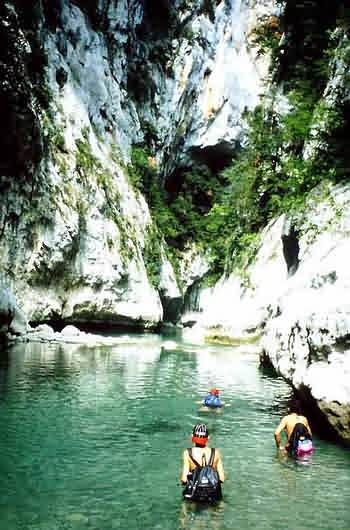 Canyoning: hiking down a canyon | ©: www.youthwork-practice.com
This intense as much as an extraordinary involvement with nature must be one of the most significant impressions the participants of canyoneering can take home. Also, they learn, just as with mountain climbing, patterns of movements, which nowadays in children and young people are almost lost. All those movements have to be taught beforehand unless the participants are already experienced climbers. Canyoneering differs considerably from alpine climbing. Even canyoneering promises, from the side of experimental learning a very unique adventure, it must be said this is an event, suitable only for young people. (Teens and up). The reason is that younger people are not always able to assess the potentially hazardous situation correctly. In a gorge, this "immaturity" of anticipating an unsafe situation can quickly become dangerous. Not just for the individual but for the entire group.
Learning of complex patterns of movement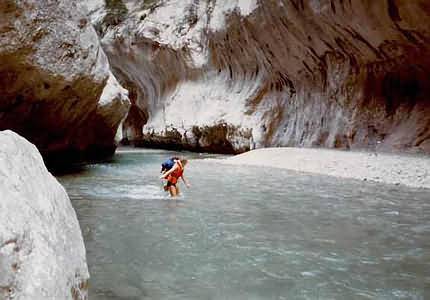 Canyoning: Grand Canyon du Verdon in France
©: www.youthwork-practice.com
Even though all the needed techniques and movements, for a successful canyoneering trip, are taught by experienced guides, in reality, this training is not enough. Simply because the young people lack the experience to foresee which technique is best applied to a certain situation in the gorge. Therefore, the groups are accompanied by an experienced guide. Ideally, there are at least two experienced guides per group. Each equipped with a harness, helmets and if necessary, with a wet suit.

Canyoneering ©: Philippe LERIDON - Fotolia
Climbing and abseiling are the main techniques in canyoneering. It is advisable that the participants have an intense practice in advance. However, on almost every tour, you will come across passages that only can be tackled by sliding or jumping. In some very demanding tours, participants even have to dive. During these activities, the participants get to know their own bodies intimately and very intensively. They also learn about their personal limits and how to overcome them at times. However, this activity is not suitable for students who are afraid of heights or suffer other anxiety problems. Going back from a gorge is in most cases impossible. Even in easy tours. For example, at one stage the group might abseil into a gorge. However, that might not mean that they could reverse the process and climb up again. After all, it is unique to canyoneering trips that those tours are held in places, which generally are subjected as inaccessible. In this harsh terrain it often comes down to one imperative skill: learning how to assess dangerous situations.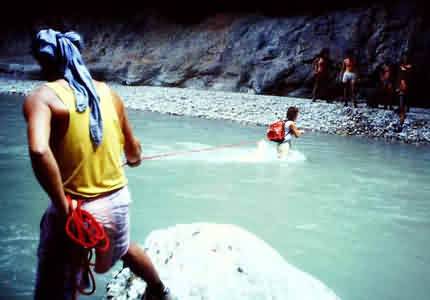 Canyoning: hiking down a river. Crossing the river with a rope
©: www.youthwork-practice.com
Thinking along is required
When taking part in canyoneering trips, special audacity is not on the agenda. Security has the highest priority. This also has a very practical background: Should someone break a leg, because he behaved recklessly at a demanding part of the tour, his rescue could be very challenging. Therefore, each participant should take good care of its immediate neighbor to rule out possible dangerous situations from arising in the first place. Unlike in alpine climbing, when canyoneering the participants are not directly connected to one another, yet, they are all depended on each other to reach their destination safely. To rely on and support each other, therefore, becomes another relevant experiences to take home from a canyoneering expedition.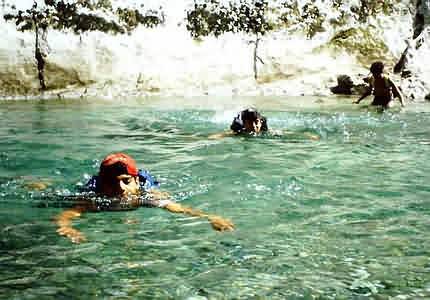 Swimming through a canyon with kids
©: www.youthwork-practice.com
Unique experience
This team-play under extreme conditions can help participants to get better acquainted with themselves and the other participants. In addition to the positive educational effect, the young people will also be rewarded with unique experiences. They get to know a facet of nature that remains closed to most people. Ravines provide a very particular habitat; home for many rare animals and plants. Also, this habitat is subject to constant change: In spring there are tearing floods from the melting snow, which ensure this constant change of habitat.
More informations and ideas concerning outdoor education
[ © www.youthwork-practice.com | 2000 Games and Ideas for Youth Work ]