source: www.youthwork-practice.com | 2000 Games, Devotions, Themes, Ideas and more for Youth Work
only for private using
Hiking and mountain tours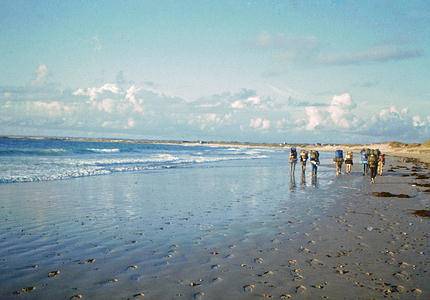 hiking along the shore | ©: www.youthwork-practice.com
Hiking and mountain tours with groups offer in experimental learning, besides the exercise, also an intense experience with nature. However, youth leaders should take the structure of the group into account and not necessarily start with a too difficult tour to achieve the desired effect.
Hiking is a great event for young people who do not know each other well yet. Couch potatoes will need some convincing to overcome their resistance to keep up with the rest of the group. More advanced kids learn to be considerate towards younger or weaker hikers. Characteristics, such as helpfulness and mutual consideration and respect give excellent learning opportunities. For example, if one of the participants sprains his ankle, he becomes depended on the help of the group also to make it safely to their destination.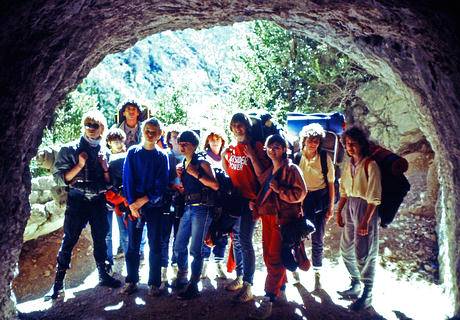 Hiking with youth | ©: www.youthwork-practice.com
The youth worker should make a point that the group as a whole, during a break or at least at night around the campfire, talk about their experiences and feelings. An important aspect of this: Everyone is taken seriously. This can be achieved by breaking a big group into several smaller groups so that no one gets isolated and even shyer kids get a say. If somebody, in the eyes of others, behaved badly, that too should be addressed. For the groups to grow everybody has to learn each other strengths and weaknesses.

Outdoorevent: via verrata and mountain tours ©: Andreas P - Fotolia
Why does togetherness matter?
After a first introductory hiking, the group can tackled a little harder route. The stronger kids motivate, the weaker and the weaker ones know that the will receive help from their older comrades if necessary . That gives the young people the chance to concentrate more on nature and perhaps discover many treasures that would otherwise have escaped them.
Please note: This is not a matter of course and that is something the group has to work on. This does not happen all by itself, at least not nowadays.
When is a mountain hike on the agenda?
A mountain tour is recommended as soon as the participants know each other and are able to assess each other. Especially in demanding climbs where some of the obstacles only can be overcome in a joint effort. On the other hand particularly daring participants will be reminded, in consideration of the group, not taking unnecessary risks. Regardless, the shared experience and the conquering of a demanding tour will strengthen the team spirit.
What can participants take away for themselves?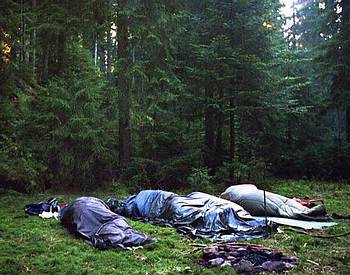 sleep rough in the wood - nothing with 5-star hotel
©: www.youthwork-practice.com
When hiking and climbing mountains, the young people learn and strengthen skills, they later can use at school or their future life. For example, they learn that many problems are easier solved at a group level then single-handed. If they once have learned to be considerate towards other group members, it will be much easier for them later in life to integrate into a group or team. They will greatly benefit from the feeling to at least once, have jointly reached a goal.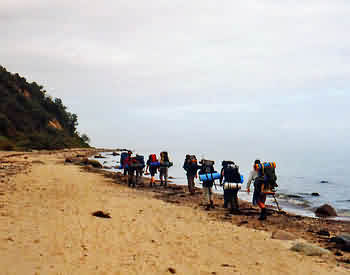 hiking along the shore | ©: www.youthwork-practice.com
Young people who travel together for several days learn to fit in. Retreating, isolating or giving up is just not an option. At home, they might get spoilt but here out on the tour, they have to carry everything themselves and have to learn to take care of not only themselves but for everybody as well. At home it is too easy to say: "I'm done. This is too hard. I can't do this." And presto, the parents are here to help. Out there, however, the young people will think twice before they say, I can't or won't do that, in front of their peers. To carry on without giving up quickly is an important lesson to learn.
It goes without saying that the youth worker is aware if somebody just wants to give up or indeed is at the end of their tether. Ultimately, all the other group members are also here to help if one really can't go on anymore. They learn quickly, that arrogance and being overly confident is misplaced on a hiking trip.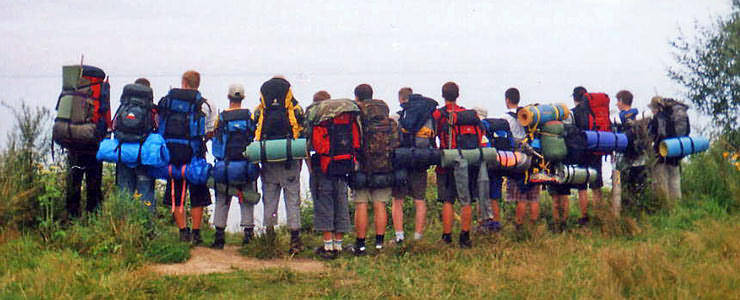 Hiking with teenagers | ©: www.youthwork-practice.com
More informations and ideas concerning outdoor education
[ © www.youthwork-practice.com | 2000 Games and Ideas for Youth Work ]