source: www.youthwork-practice.com | 2000 Games, Devotions, Themes, Ideas and more for Youth Work
only for private using
Cave tours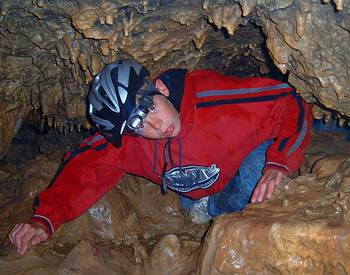 caving - plunge into darkness and tight corridor
©: www.youthwork-practice.com
A very unique group experience awaits the participants when they jointly take on a cave tour and immerse themselves, in the truest sense of the word, into a strange and fascinating world. This one of a kind experience, they will go far beyond their horizon. Such a cave tour could be the highlight of a several-day trip. It's only in the Swabian Alb or Allgäu, which in its cave system offers tours to various challenging levels. The youth worker can achieve the greatest effect if he takes a group underground, so to speak, which already knows one another well. The reason is simply that in this underground world the participants will experience a variety of new and unknown impressions.
Caving - conquering fear
Before the young people can set foot in the cave, they must have overcome their own fears first. It will provide a sense of security, when the participants descend into the cave as a group, yet, split up into teams of 2 kids each, to explore this mysterious world. The way everybody takes care of his teammate makes them feel safer and they learn, at least to some degree, to be responsible for the other person as well.
Already the dark mouth of a cave can be frightening for some kids. Even the cave systems, which offer those tours, are lit, the participants only have a limited view, which is reduced to the circle of their torch. In this condition the sense of sight, which by many people is considered the most important one, is evidently restricted. Yet, other senses such as sound and smell become acuter. Especially for young people, who are often inundated with a wide variety of stimuli through their usual leisure activities, this becomes an unusual experience. All of a sudden, there is tranquillity with only the sounds of nature – drops of water on the cave floor or the scurrying of animals in their habitat.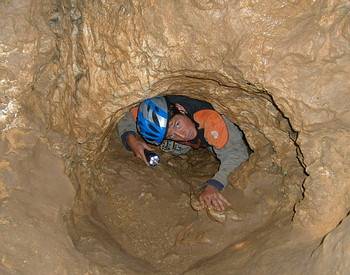 caving: ups, very small passage
©: www.youthwork-practice.com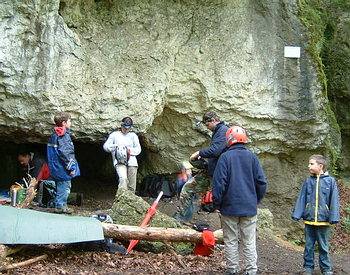 caving: last preparation before the caving trip starts
©: www.youthwork-practice.com
Claustrophobia – not necessarily
Walking through a narrow passage, which is surrounded by rocks, is for many participants a particular challenge. Often only after they have processed their first impressions do they realize that they are in the bowels of the earth, surrounded by meter-thick rock. It is advisable to the youth worker to pay particular attention to the young people at the beginning of the tour. If the kid is dealing with mild anxiety, it is possible to overcome that in the circle of the group. However, if the young person experiences a real sense of claustrophobia, then the group should return to the entrance quickly. The safety of everybody has absolute priority.
Discussions about the cave experiences
If one of the young people has to return, for one of the above reasons, it is inevitable to address that later on. That will ensure, that this person might not be excluded or ridiculed by the rest of the group. For example, he could describe his feeling and fears to the group. It is likely that somebody else has experienced something similar. Discussing their feelings afterwards opens the opportunity for a stronger bonding. This in turn gives reason to expand the caving adventure further. For example, the young people could be encouraged to work together and invent a story, which takes place in this dark habitat.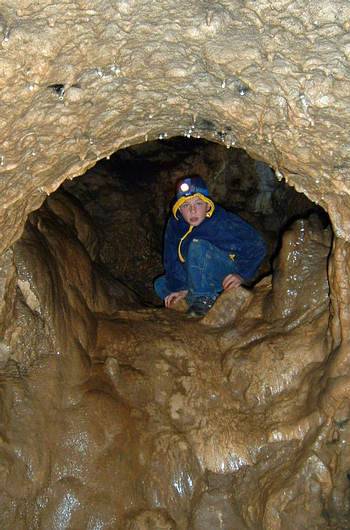 caving for kids - a big adventure
©: www.youthwork-practice.com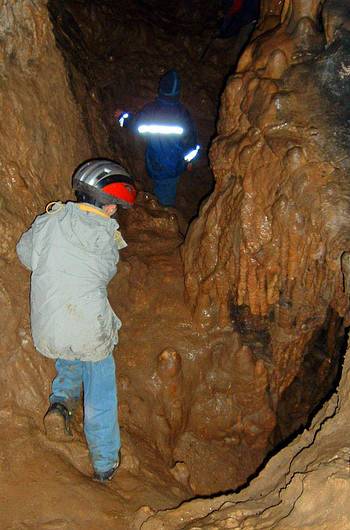 Cave tours: unknown ways and holes
©: www.youthwork-practice.com
Safety aspects
The issue of security is crucial when exploring caves. Unknown caves should be explored only with an experienced guide before you go there on your own and put your youth group at risk.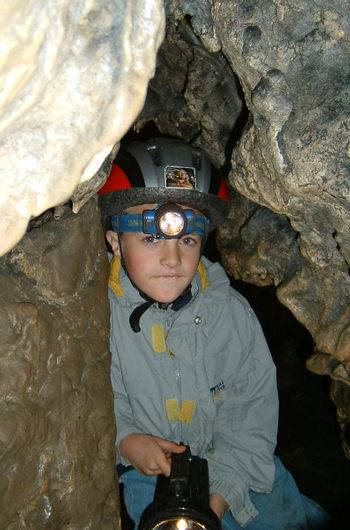 caving
©: www.youthwork-practice.com
Not every crevasse can be handled easily by each participant. The cave shown on the photos have led to a chief rescue mission only a few years ago. Someone got stuck in a very narrow cleft. In no time at all the person was not able to move back or forth anymore. Panic did the rest to get the person truly wedged in.
Participants, who suddenly get claustrophobic, or are overwhelmed by the feeling "I'm never ever going to find my way out of here", can experience panic attacks or anxiety.
You also cannot miss out on good equipment. Without a helmet, ropes, spare torches, batteries and bandages there is no entering a cave. And, of course, a muesli bar cannot be missing either.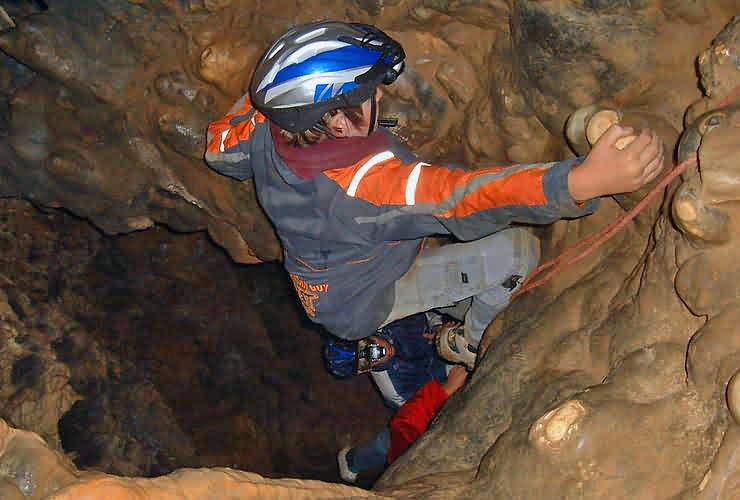 caving: sometimes abseiling or climbing | ©: www.youthwork-practice.com
More informations and ideas concerning outdoor education
[ © www.youthwork-practice.com | 2000 Games and Ideas for Youth Work ]